Dr. Kaluza Keeps Portland Trail Blazers' Safe in NBA Playoffs During Pandemic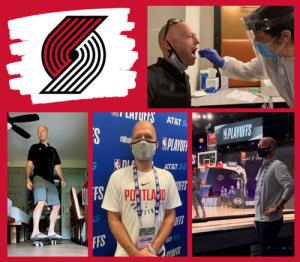 Dr. Karl Kaluza, Rebound sports medicine physician and one of the Portland Trail Blazers' team physicians, is currently in Orlando, Florida, taking care of the team while they are in the NBA Playoffs in the Orlando Bubble. The 2020 NBA Bubble or Orlando Bubble is the isolation zone with strict rules created by the National Basketball Association (NBA) to protect its players from the COVID-19 pandemic during the 2019–20 season restart. Sixteen teams including the Portland Trail Blazers are currently at Walt Disney World near Orlando, Florida, participating in the remaining playoff games being held at the ESPN Wide World of Sports Complex.
Upon Dr. Kaluza's arrival on August 13, he was quarantined to his hotel for four days where he was tested for COVID daily. During that time, he rode his rip stick back and forth in his room for exercise and had an assortment of healthy food options brought to his room every day. Once being cleared, he was moved to "campus", the Yacht Club at Disney Resort and then the Grand Floridian when they made the playoffs.
Dr. Kaluza is trying to keep his daily routine as normal as possible during his stay in the Orlando Bubble. Each morning there is a COVID screening that has to be done including a temperature check, oxygen saturation, and a series of questions on an app the NBA created. He has his meals with the Blazer team and staff, and exercises by running, playing tennis, and pickleball as well as riding his rip stick around the resort. Dr. Kaluza also attends every team practice and game.
Although Dr. Kaluza is away in Orlando, staying in touch with his patients is still one of his top priorities. He often visits with them via telemedicine.
Dr. Karl Kaluza says that the NBA has done a great job of keeping everyone safe from COVID, not a single player, coach or staff have contracted COVID. Everyone has been well taken care of.
Click here to learn about Rebound's relationship with the Portland Trail Blazers.