Osteoporosis Detection, Prevention and Myths
This month, our physicians want to provide you with useful resources on osteoporosis in honor of Osteoporosis Awareness and Prevention Month.
Although osteoporosis is increasingly common, many people are not aware they could be at risk. In an effort to raise awareness and prevent the disease, we have some quick and easy information to remember about osteoporosis, so you can protect your bone density!
How is Osteoporosis Detected?
"While there are tests designed to detect osteoporosis, a fracture is often the first warning sign or indication that someone has the disease," says Dr. Norman Rokosz, Rebound neurological surgeon.
"As we age, we lose bone mass. Considering your risk factors, like heredity, poor lifestyle, diet or inactivity, is a first step. You should also consult with a doctor about your need for a test."
These, typically 10-minute, tests will determine your bone density, whether you are at risk for fracture/breaking a bone, and the likelihood of your bone density improving with certain measures. Learn more about the variety of bone density tests that are used to detect osteoporosis here.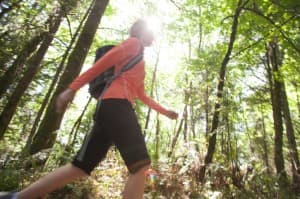 Fractures and Osteoporosis
Our last post discussed the common concern of spinal fractures in osteoporosis patients and the treatment options we offer at Rebound. However, vertebrae aren't the only bones at risk of breaking. Spinal fractures are the most common, followed by hip fractures and wrist fractures.
One in two women and one in four men older than 50 years will break a bone because of osteoporosis.
Many of these painful fractures of the hip, spine, wrist, arm, and leg can result from a fall. However, performing even simple household tasks can result in a broken bone if depending on the severity of osteoporosis.
How Do You Prevent Osteoporosis?
Keeping your bones healthy, no matter your age, is crucial. Starting balance exercises, strengthening exercises and maintaining a healthy diet and lifestyle are steps you can take immediately to help prevent osteoporosis.
Here are five ways the National Osteoporosis Foundation recommends to keep your bones strong and prevent osteoporosis.
Discover what your risk factors are (age, gender, heredity, lifestyle, medical history, etc.).
Exercise to protect your bones. Regular exercise designed to strengthen your muscles and bones is important and a highly effective way to prevent osteoporosis and fractures.
Eat foods that keep your bones healthy. Foods rich in calcium, vitamin D, vitamin K, omega-3s and magnesium will promote bone growth, prevent broken bones and contribute to the overall health of your musculoskeletal system.
Find out if you should have a bone density test. They are painless, usually only last 10 minutes and will help you protect yourself from fractures and other conditions.
Limit the use of alcohol and avoid tobacco or smoking.
"It is important to keep the conversation about osteoporosis going. So many people do not realize how serious it can be, and often think they are immune to risk," says Dr. Rokosz.
Common Osteoporosis Myths:
Myth: All fractures occur because of a fall. Truth: Even simple daily activities can cause spinal fractures.
Myth: Having a diet rich in calcium and exercising regular means you aren't at risk for osteoporosis. Truth: Your age, medical history and family history also play a role.
Myth: Men aren't at risk for osteoporosis. Truth: Nearly two million men in this country have osteoporosis. One in four men older than 50 will experience a fracture due to osteoporosis.
Myth: You can feel your bones weakening. Truth: People often are unaware they've lost bone density or that they may already have osteoporosis. A broken bone is a common first sign.
At Rebound, our physicians treat many conditions associated with osteoporosis, including spinal fractures, many forms of joint trauma, replacement and more. To schedule an appointment, please call 1-800-REBOUND or make an appointment request online.
National Osteoporosis Foundation – Prevention and Healthy Living
National Osteoporosis Foundation – Detecting Osteoporosis
Rebound Orthopedics & Neurosurgery – Blueprint for Better Joint Mobility: How Activity Keeps Your Bones Healthy as You Age
Rebound Orthopedics & Neurosurgery – Make Orthopedic Health a Priority in 2014 with Bone-Healthy Exercise
Rebound Orthopedics & Neurosurgey – Spinal Fractures Caused by Osteoporosis