Rebound Employees Collect Canned Goods for Local Charity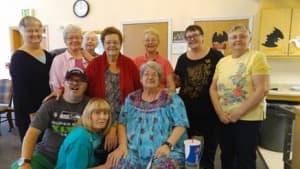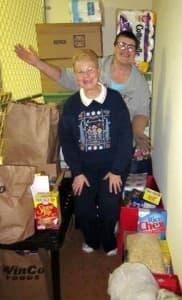 Getting into the spirit of giving is an important part of the holiday season. At Rebound, we are dedicated to serving our patients and community during this festive time, and throughout the year. Leading up to the holidays, our community outreach committee selects a local charity to serve.
This year, Rebound employees chose The Vintage Senior Apartments, a low income senior living center needing assistance in supplying their food pantry. The Vintage Senior Apartments is an important resource for those seniors living in Vancouver for many reasons. The complex houses 212 low income or disability residents, 95 percent of which are single women.
"Residents at The Vintage are between 60 and 90 years old, with the majority of them having some type of ailment such as cancer, COPD, or Parkinson's- to name a few. Most of their income goes to rent, leaving a lot of them with $45-55 a month for groceries," says Kathy Black, Rebound Community Relations Specialist.
From Oct. 15 through Nov. 5, Rebound's community outreach committee set up donation boxes in break rooms at each office location. Not only were non-perishable foods items collected, but personal hygiene products such as toothpaste, soap, toilet paper, and paper towels as well. Rebound employees, along with the help of their family and friends, helped collect items and spread the word about the campaign.
"So often we forget about our seniors and the needs they have. This apartment complex is unique to the Vancouver area and is privately owned. The residents rely on themselves and the charity of others to make it day by day." says Kathy Black.
With the help of employees from five Rebound locations, more than 500 pounds of canned goods and hygiene products were delivered the The Vintage Senior Apartments. One resident responded to the donation in the form of a letter:
Hi, my name is June, I am one of approximately 125 seniors living here at Vintage Senior Apartments. We are a unique group of folks who are living out our lives in our own special community. Most all of us are on a fixed income and many with disabilities or illness. Last week, we received a most generous donation from Rebound, a truck and an SUV filled with bags and boxes of food and other supplies for our seniors. So many that live here cannot get out or afford to do much shopping. Rebound has made it possible for our folks to enjoy the holidays with special gift bags we will make for them filled with your most generous donations. Thank you so much Rebound and please drop by and get to know our residents.
"Even the smallest donation can make the biggest impact on someone else's life, and we are humbled to have made a difference for their community just in time for the holidays," says Kathy Black.
Thank you to all who donated to this special cause- our results would not have been possible without your generosity. If you are interested in learning more or helping the residents of The Vintage Senior Apartments, click here.