Our Employment Opportunites page is updated regularly as positions become available. Every resume is reviewed by human resources. Applications are kept on file in human resources for 30 days.

Rebound Orthopedics & Neurosurgery is an equal-opportunity employer that believes in its responsibility, and that of all its employees, to ensure there is no discrimination based on race, color, national origin, religion, sex, age, disability, marital status, or any other legally protected status. We comply with all federal, state, and local laws that prohibit discrimination in employment. Please refer to our Employment FAQs or Mission Statement for more details.
We offer a competitive compensation and benefits package, and in 2011, Seattle Business named Rebound one of Washington's top 100 Best Companies to Work For. If you'd like to join our Rebound team, please view our Employment Opportunities and complete an application for the position you are seeking.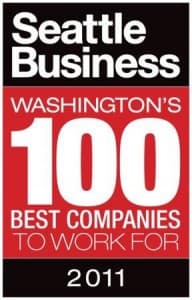 Email: hr@reboundmd.com
Fax: (360) 823-5608
Mail:
200 NE Mother Joseph Place, Suite 210
Vancouver, WA 98664
Attn: Human Resources