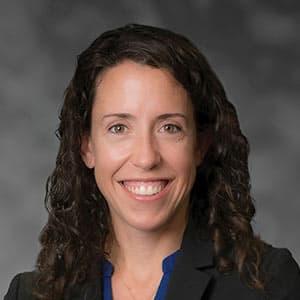 Heather J. Roberts, M.D.
Specialties:
Fellowship:
Hip and Knee Arthroplasty
Dr. Heather Roberts is a fellowship-trained orthopedic surgeon with a special interest in hip and knee replacement and revision. Her approach to providing care is patient-centered and accompanied by the latest techniques and technology in orthopedics. By building trust with her patients and efficiently communicating with them about their needs, she is able to help them return to their lifestyles and the activities that are most important to them.
Through her advanced knowledge and training, Dr. Roberts assesses, diagnoses, and treats her patients' orthopedic needs through nonoperative and operative means, including hip and knee replacement, often utilizing Mako SmartRobotics™, anterior hip replacement, and revision hip and knee surgery.
Dr. Roberts attended Stanford University in California, where she received a Bachelor of Science degree in chemistry. She earned her medical degree from Harvard Medical School in Boston before attending the University of California San Francisco, where she completed both her internship and residency in orthopedic surgery. Dr. Roberts furthered her training at Mayo Clinic with a fellowship in hip and knee arthroplasty.
Dr. Roberts is a member of the American Academy of Orthopaedic Surgeons and the American Association of Hip and Knee Surgeons. She is a recipient of the California Orthopaedic Association's 2021 OREF Resident Paper Award and The Hip Society's 2021 John Charnley Award as well as a 2020 nominated participant for the American Orthopaedic Association's C. McCollister Evarts Resident Leadership Forum.
In her free time, Dr. Roberts enjoys trail running, cycling, white water rafting, and classical piano.
Dr. Roberts is available to see patients seeking joint replacement or hip and knee care at Rebound Orthopedics & Neurosurgery in Vancouver at Total Joint Center Vancouver and Camas.
Credentials

Education & Training

Bachelor of Science in Chemistry: Stanford University, Stanford, CA
Doctor of Medicine: Harvard Medical School, Boston, MA
Orthopedic Surgery Internship: University of California San Francisco, San Francisco, CA
Orthopedic Surgery Residency: University of California San Francisco, San Francisco, CA
Hip and Knee Arthroplasty Fellowship: Mayo Clinic, Rochester, MN

Professional Associations

American Academy of Orthopaedic Surgeons
American Association of Hip and Knee Surgeons

Hospital Affiliations

PeaceHealth Southwest Medical Center
Legacy Salmon Creek Medical Center

Awards

California Orthopaedic Association's OREF Resident Paper Award: 2021
The Hip Society's John Charnley Award: 2021
Nominated Participant for the American Orthopaedic Association's C. McCollister Evarts Resident Leadership Forum: 2020
Locations

Rebound Camas

3205 Southeast 192nd Avenue, Suite 105
Vancouver, WA 98683

Rebound Total Joint Center Vancouver

Physicians' Pavilion
200 Northeast Mother Joseph Place, Suite 305
Vancouver, WA 98664