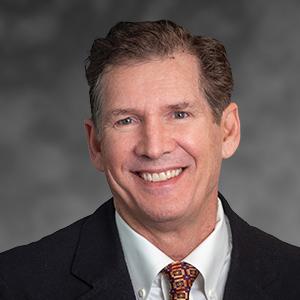 Edward H. Coale, Jr., M.D.
Specialties:
Edward H. Coale, Jr., M.D., is an orthopedist with subspecialty training in hand and wrist surgery. His goal for every patient is to provide the highest level of care in order to restore function and relieve pain in the hand and wrist. He has a strong interest in basilar thumb arthritis and carpal tunnel syndrome. He also enjoys tennis, golf, windsurfing, and blues guitar in his off hours.
Dr. Coale has conducted and presented nationally recognized research on arthritis at the base of the thumb. This research has helped to validate and add to current state-of-the-art techniques used to help patients who suffer with this problem.
Dr. Coale is available to see hand and wrist patients at Rebound Orthopedics & Neurosurgery in Vancouver at Vancouver and Salmon Creek.
Credentials

Education & Training

Bachelor of Science: University of Michigan, Ann Arbor, MI
Master of Science in Bioengineering: University of Michigan, Ann Arbor, MI
Doctor of Medicine: Wayne State University School of Medicine, Detroit, MI
Orthopedic Surgery Internship: Michigan State University College of Human Medicine: Grand Rapids, MI
Orthopedic Surgery Residency: Michigan State University College of Human Medicine: Grand Rapids, MI
Hand Surgery Fellowship: Michigan State University College of Human Medicine, Christine M. Kleinert Institute for Hand and Microsurgery, Grand Rapids, MI, Louisville, KY

Certifications

American Board of Orthopaedic Surgery
Subspecialty Certification in Surgery of the Hand

Professional Associations

American Academy of Orthopaedic Surgeons
American Medical Association
American Society for Surgery of the Hand
Clark County Medical Society
Washington State Medical Society

Team Affiliations

Clark College
Columbia River High School
Portland State University
Portland Trail Blazers
Portland Winterhawks
Skyview High School
University of Portland

Hospital Affiliations

PeaceHealth Southwest Medical Center
Legacy Salmon Creek Medical Center

Awards

Portland Monthly Top Doctors: 2016, 2017, 2018
Locations

Rebound Orthopedics Vancouver

Physicians' Pavilion
200 Northeast Mother Joseph Place, Suite 110
Vancouver, WA 98664

Orthopedics, Physiatry, and Hand Therapy: Suite 110
Neurosurgery: Suite 300
Total Joint Center: Suite 305

Rebound Salmon Creek

Medical Office Building A
2121 Northeast 139th Street, Suite 300
Vancouver, WA 98686

Orthopedics, Neurosurgery, and Physiatry: Suite 300
Physical Therapy and Hand Therapy: Suite 325
News
Testimonials

I cut two of my fingers while working on a milling machine. I severed a nerve on my middle finger and a flexor tendon on my ring finger of my right hand. I worked in Portland and was taken to Emmanuel Hospital ER for my original care on December 16th 2015. I live in Camas so I naturally wanted to use local physicians for my care. Being the holidays Rebound was short staffed but Dr. Coale agreed to see me. He arranged for surgery immediately and after 4 long hours repaired my fingers.

After 6 long months and physical therapy I have use of my hand and am very thankful for all that Dr. Coale did for me. He is not only an excellent doctor but he has a very good ability to explain injury and recovery in terms the patient can relate to. I would totally recommend Dr. Coale to anyone needing a hand specialist. Rene, his medical assistant is wonderful too. Thank you Dr. Coale for putting me back together again.