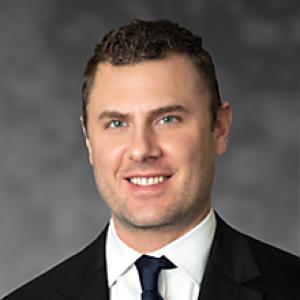 Nicolas Karvelas, M.D.
Specialties:
Fellowship:
Pain Medicine
Dr. Nicolas Karvelas is a physician double-board-certified in interventional pain medicine and physical medicine and rehabilitation. He graduated with honors from the University of California, Davis, with a degree in exercise biology. He then continued on at UC Davis for completion of his medical school and residency training as well as his fellowship training.
Dr. Karvelas's passions and specific interests in medicine include spine procedures, neurostimulation interventions (including spinal cord stimulation), and musculoskeletal medicine. He performs a variety of different therapeutic interventions, including cervical, thoracic, and lumbar spine procedures; joint treatments (including shoulder, hip, and knee); sympathetic blocks; and spinal cord stimulators.
Dr. Karvelas's goal with each patient is to work as hard as he can to improve the symptoms, function, and overall health of that patient.
Dr. Karvelas offers physical medicine and rehabilitation care at Rebound Orthopedics & Neurosurgery in Vancouver at Vancouver and East Vancouver.
Credentials

Education & Training

Bachelor of Science in Exercise Biology: University of California, Davis, Davis, CA
Doctor of Medicine: UC Davis School of Medicine, Sacramento, CA
Physical Medicine & Rehabilitation Residency: UC Davis School of Medicine, Sacramento, CA
Pain Medicine Fellowship: UC Davis School of Medicine, Sacramento, CA

Certification

American Board of Physical Medicine and Rehabilitation
Locations

Rebound Orthopedics Vancouver

Physicians' Pavilion
200 Northeast Mother Joseph Place, Suite 110
Vancouver, WA 98664

Orthopedics, Physiatry, and Hand Therapy: Suite 110
Neurosurgery: Suite 300
Total Joint Center: Suite 305

Rebound Camas

3205 Southeast 192nd Avenue, Suite 105
Vancouver, WA 98683