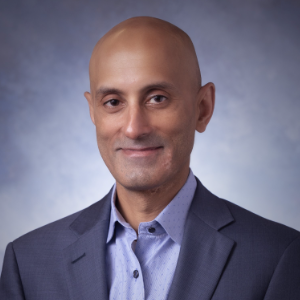 Ashok Modha, M.D., F.R.C.S.C.
Specialties:
Fellowship:
Neurosurgical Oncology
Ashok Modha, M.D., F.R.C.S.C., is a board-certified neurological surgeon with fellowship training in neuro-oncological neurosurgery. After completing his residency in Ottawa, Canada, Dr. Modha spent a year at the Memorial Sloan Kettering Cancer Center, one of our nation's preeminent cancer training and research centers. He developed expertise in excising brain and spinal cord tumors, and his training included brain tumor resection with the assistance of brain mapping. Dr. Modha was exposed to the latest brain tumor research while he gained intensive experience in treating patients with cancer. Although Dr. Modha has received exceptional oncology training, he is also experienced in all neurosurgical disorders, including degenerative spinal conditions, neurovascular disorders, and neurotrauma. He also subspecializes in treating tumors and other conditions with stereotactic radiosurgery using both the Gamma Knife and CyberKnife.
Dr. Modha sees back, neck, spine, and neurosurgical patients at Rebound Orthopedics & Neurosurgery in Vancouver at Salmon Creek and Neurosurgery Vancouver, as well as in Portland at Rebound Neurosurgery Rose Quarter.
Credentials

Education & Training

Bachelor of Science in Biology: University of Winnipeg, Winnipeg, Manitoba, Canada
Bachelor of Science in Medicine: University of Winnipeg, Winnipeg, Manitoba, Canada
Doctor of Medicine: University of Manitoba, Max Rady College of Medicine, Winnipeg, Manitoba, Canada
Neurosurgery Residency: University of Ottawa Faculty of Medicine, Ottawa, Canada
Neurosurgical Oncology Fellowship: Memorial Sloan Kettering Cancer Center, New York, NY

Certification

The American Board of Neurological Surgery (ABNS)
Fellow of the Royal College of Surgeons of Canada (FRCSC)

Professional Associations

American Association of Neurological Surgeons
Canadian Neurological Sciences Federation
Clark County Medical Society
Congress of Neurological Surgeons
Society for Neuro-Oncology
Washington State Medical Association

Hospital Affiliations

PeaceHeath Southwest Medical Center
Legacy Salmon Creek Medical Center
Legacy Good Samaritan Medical Center
The Gamma Knife Center of Oregon (Providence Portland Medical Center)

Awards

Portland Monthly Top Doctors: 2016, 2017, 2018
Locations

Rebound Salmon Creek

Medical Office Building A
2121 Northeast 139th Street, Suite 300
Vancouver, WA 98686

Orthopedics, Neurosurgery, and Physiatry: Suite 300
Physical Therapy and Hand Therapy: Suite 325

Rebound Neurosurgery Vancouver

Physicians' Pavilion
200 Northeast Mother Joseph Place, Suite 300
Vancouver, WA 98664

Rebound Neurosurgery Rose Quarter

Clinic Address:
One North Center Court Street, Suite 110
Portland, OR 97227

Parking Address:
100 North Drexler Drive
Portland, OR 97227
News
Testimonials

In 2014 I was diagnosed with a large benign brain tumor. I was referred to Dr. Modha at Rebound by another neurologist who called Dr. Modha's office during my appointment with the first doctor. By the time I got to my house Dr. Modha's office had called my house and left a message to call in the morning. I called first thing and they made appointment that day I was in Dr. Modha's office making an appointment for brain surgery within several weeks. Wow it was incredible to receive such quality care so quickly. I am very grateful.

The surgery went very well. I was given excellent care by the staff. The doctor came to check on me himself during my 7 day stay. The hospital and clinic are very organized and carefully explained the recovery process and expectations I am so thankful for the experience I had. I have not been hospitalized since having children 25 years ago. I would chose this facility in the future if needed. Thank you to Dr. Modha and all the staff.

It was a year in November 2015 that I am still cancer free!! Dr. Modha and his crew were amazing! Very scary and unexpected time for me and my family when I found out I had a brain tumor. I had been having many bad headaches, and was starting to get nauseus & dizzy. After trying a couple different medications that did not help, I asked to get an MRI, and that is when they saw it instantly. My wife and I met with Dr. Modha and he wasted no time in getting me in to surgery, and he made me and my family feel very confident that everything was going to be okay. He is an amazing doctor, and I would recommend him to anybody that was going through what I went through. Thankful to be alive and cancer free all because of him!!!

I have had Dr. Modha for my tumors for 5 years and would not have anyone else treat me. He is very straight forward and very honest with me. I have had 5 surgeries and he did all of them. He has saved my life with a couple of surgeries, and in my opinion he is the best, and my family thinks highly of him.

Thank you,
Videos