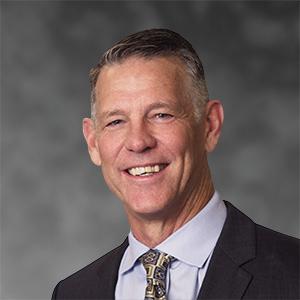 Stephen R. Southerland, M.D., F.R.C.S.C.
Fellowship:
Spine Surgery and Sports Medicine
Stephen R. Southerland, M.D., F.R.C.S.C., is an orthopedic surgeon with a subspecialty interest in joint replacement including total knee replacement, total hip replacement, and anterior hip replacement as well as sports medicine. He believes that the primary goal of treatment is an early return to function and emphasizes prompt diagnosis, timely surgical intervention, and patient education.
Dr. Southerland is an avid windsurfer, snowboarder, and cyclist.
Dr. Southerland sees patients seeking hip, knee, and sports-related care as well as joint replacement and revision candidates at Rebound Orthopedics & Neurosurgery in Vancouver.
Credentials

Education & Training

Undergraduate: University of Victoria, Victoria, British Columbia, Canada
Doctor of Medicine: The University of British Columbia, Vancouver, British Columbia, Canada
Rotating Internship: University of Toronto, North York General Hospital, Toronto, Ontario, Canada
Orthopedic Surgery Residency: University of Saskatchewan, Saskatoon, Saskatchewan, Canada
Spine and Reconstructive Surgery Fellowship: University of Saskatchewan, Saskatoon, Saskatchewan, Canada
Spine Surgery Fellowship: Western University, London, Ontario, Canada
Sports Medicine Fellowship: Harvard University, Boston, MA

Certification

American Board of Orthopaedic Surgery

Professional Associations

American Academy of Orthopaedic Surgeons, Fellow
Royal College of Physicians and Surgeons of Canada, Fellow

Hospital Affiliations

PeaceHeath Southwest Medical Center
Legacy Salmon Creek Medical Center
Locations

Rebound Orthopedics Vancouver

Physicians' Pavilion
200 Northeast Mother Joseph Place, Suite 110
Vancouver, WA 98664

Orthopedics, Physiatry, and Hand Therapy: Suite 110
Neurosurgery: Suite 300
Total Joint Center: Suite 305

Rebound Total Joint Center Vancouver

Physicians' Pavilion
200 Northeast Mother Joseph Place, Suite 305
Vancouver, WA 98664
News
Testimonials

Dr. Southerland and his PA Joel Phillips were fantastic. In fact, the whole Rebound Team is fantastic for many reasons. The most amazing thing is that I was pain free from the minute I woke up from double hip replacement surgery! No arthritic pain, but not even incision pain. After 3 months of recovery, I was in the gym doing yoga, stationary bike, elliptical machine and walking up and down the gym's two-story stairs. And I suspect that I will be back on the squash court in another 2 months.

The whole Rebound experience is great. First, the Team educates you before and after surgery so that you know what to expect and how to make a speedy recovery. Second, Dr. Southerland and his PA Joel are highly skilled and compassionate. They answered all of our many questions before and after the surgery. They performed the surgery (both hips) in less than 2.5 hours leaving only two 5-inch scars. Third, I had great nursing care and physical therapy while in the hospital ... yes, you start walking right after the surgery. And fourth, I had great physical therapy from Mike Colby at Rebound for two months. His weekly evaluations and advice on movement allowed me to progress through ever more demanding physical tasks at just the right pace for a quick recovery.

It's the whole Rebound organization that makes the orthopedic experience wonderful and takes much of the anxiety out of having major surgery. I can't say enough good things about the core people involved in my care: Dr. Southerland, Joel Phillips (PA) and Mike Colby (PT).

I had a total knee replacement just over a year ago. Dr. Southerland and his PA, Joel Phillips, were wonderful. Shortly after surgery I had 120 degrees of flexion. Despite going to PT and being dedicated in rehab at home, my flexion suddenly became only 70. I was quickly scheduled for manipulation surgery with Dr. Southerland and have maintained a decent range of motion. At three months I was SUPing, playing tennis and even windsurfed again. It is amazing to me that I can be so active and not experience pain! At 40 I had ACL reconstruction and four subsequent surgeries. For 28 years I put up with my knee always aching after playing tennis and windsurfing. What a joy it is to enjoy being active and not have to be in pain!!!

I saw Dr. Southerland in February of 2015. I had had severe hip pain for the prior year. I had had multiple bilaterial knee surgeries over the prior 20 years. Dr. Southerland replaced both my hips and both my knees starting in April and ending in December. All four joints replaced in eight months. My world changed. I recently hiked three different falls on the big Island of Hawaii, yesterday I did 9000 steps on the stair master at the gym. Prior to my surgeries, I could barely walk to the bathroom. Dr. Southerland is so wonderful and I am so grateful that he took me on as a patient. I have had four prior orthopedic surgeons, without doubt Dr. Southerland is the best! Thank you Dr. Southerland.... you ROCK!

I have worked with these doctors and they are caring and professional. I like Dr. Southerland the best because he is not only a great ortho doctor but he is approachable and easy to work with.

Thanks to Dr. Southerland and his staff. I now have two new knees which I had replaced at the same time. I now can kneel, walk, ride my bike, do yard work and much much more! I would love to share my recovery and tips with other candidates for knee replacements. Again a BIG thank again you to all who helped me achieve the active lifestyle I now have.

How lucky was I. First to be admitted 2 days after totally destroying my tendon. Dr. Southerland and Joel Phillips put me back together. Dr. mentioned I had some of the worst damage that he had ever seen. After three months of rehab, the bend was only 70%. Another surgery was looming. Dr. Southerland took one look at the knee and declared "go back in the gym and face the pain". I did, and he was right! After 8 months of difficult rehab, the bend is now close to normal. How important it is to receive exceptional attention during the process of healing!
Thanks to Steve and Joel for their special gifts!

Thanks to Dr. Southerland and Joel Phillips; after having two successful hip replacements, I am able to stand and walk much better than before and am able to participate in senior trips.

Dr. Southerland is a total genius! He replaced my left knee in the spring of 2009 and it's like I'm a new person. No more pain and full mobility. Thank you Steve!

Thanks to Dr. Southerland I have a great new knee and it has made a world of difference.
Videos