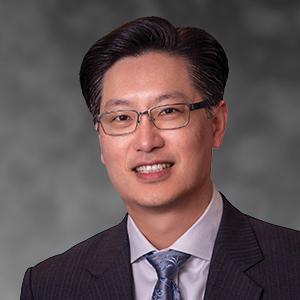 Anthony S. Wei, M.D.
Fellowship:
Sports Medicine and Shoulder & Elbow Surgery
Anthony S. Wei, M.D., is an orthopedic surgeon who treats disorders affecting the shoulder and elbow, including sports and traumatic injuries, rotator cuff repair, total shoulder replacement, degenerative disorders, and conditions associated with overuse. He is fellowship-trained in shoulder and elbow surgery and sports medicine. Dr. Wei has experience working with professional sports teams, including the Los Angeles Lakers, Los Angeles Kings, and Los Angeles Dodgers. He has also been the team physician for Loyola Marymount University in Los Angeles. Dr. Wei previously has conducted research involving the nonsurgical and surgical management of rotator cuff injuries.
Dr. Wei identifies with the importance of patient education and communication as well as the patients' personal roles in their well-being. He strongly believes that well-informed patients can better participate in their own healthcare, from the treatment decision to the recovery process. He strives for a comprehensive approach to patient care through an understanding of the patient's personal needs, offering specific treatments that encompass appropriate nonsurgical treatments as well as advanced surgical intervention when necessary. Since 2013, Portland Monthly magazine has named Dr. Wei as one of Portland's Top Doctors. Dr. Wei has also been regularly selected for the Patients' Choice Award by Vitals.
In his spare time, Dr. Wei enjoys hiking, running, and traveling.
Dr. Wei offers elbow, shoulder, and sports-related care, including joint replacement and revision. He sees patients at Rebound Orthopedics & Neurosurgery in Vancouver at Vancouver, Salmon Creek, and East Vancouver as well as in Portland at Rose Quarter.


Credentials

Education & Training

Doctor of Medicine: University of Chicago Pritzker School of Medicine, Chicago, IL
Orthopedic Surgery Internship: Loyola University Chicago Stritch School of Medicine, Maywood, IL
Orthopedic Surgery Residency: Loyola University Chicago Stritch School of Medicine, Maywood, IL
Shoulder and Elbow Surgery Fellowship: Washington University School of Medicine, St. Louis, MO
Sports Medicine Fellowship: Kerlan-Jobe Orthopaedic Clinic, Los Angeles, CA

Certifications

American Board of Orthopaedic Surgery
Subspecialty Certificate in Orthopaedic Sports Medicine

Hospital Affiliations

PeaceHeath Southwest Medical Center
Legacy Salmon Creek Medical Center

Awards:

Portland Monthly Top Doctors: 2013, 2014, 2015, 2016, 2017, 2020
Locations

Rebound Orthopedics Vancouver

Physicians' Pavilion
200 Northeast Mother Joseph Place, Suite 110
Vancouver, WA 98664

Orthopedics, Physiatry, and Hand Therapy: Suite 110
Neurosurgery: Suite 300
Total Joint Center: Suite 305

Rebound Rose Quarter

Clinic Address:
One North Center Court Street, Suite 110
Portland, OR 97227

Parking Address:
100 North Drexler Drive
Portland, OR 97227

Rebound Salmon Creek

Medical Office Building A
2121 Northeast 139th Street, Suite 300
Vancouver, WA 98686

Orthopedics, Neurosurgery, and Physiatry: Suite 300
Physical Therapy and Hand Therapy: Suite 325

Rebound Camas

3205 Southeast 192nd Avenue, Suite 105
Vancouver, WA 98683
News
Testimonials

Dr. Wei has operated and fixed both of my rotator cuffs the which were injured several years apart. I was always impressed with the doctors ability and counsel regarding the surgery.

My own surgery though important was not the thing that was most impressive to me. A close friend who drove large semi trucks severely injured his rotator cuff while chaining up his truck. He was sent to a required doctor by the state industrial accident fund. After that surgery he was never ale to raise this arm any higher than chest level. I recommended that he see Dr. Wei. After the surgery by Dr. Wei my friend regained at least 80% movement in the arm and is currently able to live a reasonably normal life.

Dr. Wei fixed chronic shoulder pain, calcific tendonitis, and frozen shoulder. Today I practiced taekwondo for an hour, mowed two lawns, pulled weeds, fixed a broken window, replaced a light fixture, fixed some other little things, dug a big hole, and cleaned the house for a couple of hours. After a day like this, I keep expecting my shoulder to hurt a lot, but it doesn't at all. Thanks again to you and your team! It's so good to be able to work again.

Without a doubt the best results I could have ever hoped for. Both Drs. Wei and Roberts are amazing doctors. I am 100% pain free and living a very normal active life thanks to those two. And the nurses at Salmon Creek are THE BEST too! Thank you thank you thank you!

Rebound guided me in proper progressive rehab and continued life activity exercises. Dr Wei did my rotator cuff surgery using screws and reattatchment fiber and I have 100% recovery. Last summer at age 61 I won 4 state swimming events and second in 2 events. Not bad considering knee replacements in 1999 and 2010 and shoulder surgery 2013.

I was fortunate enough to have Dr. Anthony Wei as my surgeon for a total replacement of my right shoulder joint last Dec. 3rd, 2014.

My experience in Vietnam left me with a souvenir from a sniper to my right shoulder which became arthritic with the years and painful. Now, almost three months after total replacement and the wonderful work of the Rebound Physiotherapy team, I am pain free and have regained over 90% of my mobility!

Thank you, Dr. Wei and the highly professional staff at Rebound Orthopedics!!