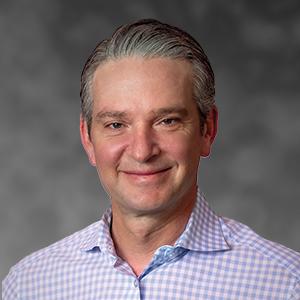 Todd A. Borus, M.D.
Fellowship:
Adult Reconstruction and Joint Replacement
Todd A. Borus, M.D., is an orthopedic surgeon with subspecialty interest in arthritis, joint replacement surgery including anterior hip replacement, knee replacement surgery, and robotic-assisted surgery including Mako Robotic-Arm Assisted Technology. Dr. Borus believes in a multifaceted approach to patient care, including a thorough understanding of the patient's needs, use of modern diagnostic modalities, treatment with appropriate conservative measures, and advanced surgical reconstructive techniques when indicated. This approach requires expert knowledge of a patient's problems and effective state-of-the-art treatment solutions.
His fellowship training in adult reconstructive and joint replacement surgery allows Dr. Borus to care for a wide spectrum of joint disease from the initial onset of cartilage degradation to complex joint replacement surgery.
Dr. Borus is a national leader in Makoplasty, robotic-assisted joint replacement surgery. He was the first surgeon in the region to utilize the technology in 2009, and has performed more of these procedures than any surgeon in the Pacific Northwest (over 1000 cases). He currently teaches Makoplasty surgical techniques to US and international surgeons, both in the operating room and at national conferences. Dr. Borus firmly believes that robotics help deliver increased accuracy and precision to his patients in the operating room. He utilizes this technology for the full spectrum of total joint replacement procedures: partial knee, total knee, and total hip replacements. Dr. Borus also has a special interest in direct anterior total hip replacement.
In his free time, Dr. Borus enjoys hiking, biking, running, tennis, golf, and preparing barbeque meals for friends and family.
Dr. Borus is available to see patients seeking joint replacement or hip and knee care at Rebound Orthopedics & Neurosurgery in Vancouver at Total Joint Center Vancouver and Salmon Creek as well as in Portland at Rose Quarter.

Credentials

Education & Training

Bachelor of Arts in Economics: Williams College, Williamstown, MA
Doctor of Medicine: Icahn School of Medicine at Mount Sinai, New York, NY
Internship: University of Michigan Health System, Ann Arbor, MI
Orthopedic Surgery Residency: University of Michigan Medical Center, Ann Arbor, MI
Adult Reconstruction and Joint Replacement Fellowship: Brigham and Women's Hospital, Harvard Medical School, Boston, MA

Certification

American Board of Orthopaedic Surgery

Hospital Affiliations

PeaceHealth Southwest Medical Center
Legacy Salmon Creek Medical Center

Awards

Best Doctors in America: 2015, 2016
Portland Monthly Top Doctors: 2012, 2020
Locations

Rebound Rose Quarter

Clinic Address:
One North Center Court Street, Suite 110
Portland, OR 97227

Parking Address:
100 North Drexler Drive
Portland, OR 97227

Rebound Salmon Creek

Medical Office Building A
2121 Northeast 139th Street, Suite 300
Vancouver, WA 98686

Orthopedics, Neurosurgery, and Physiatry: Suite 300
Physical Therapy and Hand Therapy: Suite 325

Rebound Total Joint Center Vancouver

Physicians' Pavilion
200 Northeast Mother Joseph Place, Suite 305
Vancouver, WA 98664
News
Patient Education
Testimonials

Wanted to let you know how well my knees are doing! I've been hiking a lot and climbing mountains this summer. This picture is from on top of the Matterhorn (elevation 9826') in the Eagle Cap Wilderness only 6 months after partial knee replacement and 8 months after ACL reconstruction.

A big thank you for helping me get back to doing what I love!

Dr. Todd Borus, MD and Bret Lautt, PT OCS are my heroes. They gave me my life back. I've had two total knee replacements, 9 months apart. It was supposed to be a year apart, but, well, my other knee didn't want to wait, I guess.

Thanks to these two gentlemen, I am able to walk again with no crutches and no cane. I am very happy. I walked with crutches for nearly 7 years. My right elbow can testify on the pain of that!

After some discussion, Dr. Borus agreed that I was a good candidate for Bi-Lateral Total Knee Replacements, and I had them done in June of 2008. Within 8 weeks I was back in my dog agility class and by 11 weeks I could walk 5 miles. I was very dedicated to the PT, which is one reason Dr. Borus was willing to do both knees at the same time. He's an excellent surgeon and I received excellent care at SW Medical Center. Since then my brother-in-law, my mother and a few friends have had Dr. Borus do their knee replacements and we all agree that he's the best! I'm almost seven years post surgery and I'm hiking, showing my dogs in agility and other sports and more active than I was before I had my knees replaced. I have no regrets!

I am very grateful to Rebound and Dr. Borus for improving my life style. I was living with immense pain. As a result, I have had both hips replaced, one knee partially replaced and one knee scoped. I am able to do anything I want physically. I exercise on the eliptical 4 times a week for 20 minutes each time. I hike with my wife every chance we get. In fact, we have hiked the Great Wall of China and in the Andes in Machu Picchu Peru. Believe me, these were very steep hikes. Plus we ride our bycles often. What more can I say. Rebound and Dr. Borus have made a huge positive difference in my life.

I had my first MAKOplasty surgery in May of 2009 and the second in Nov, of 2011. Before the surgery I was only able to function with Celebrex and I couldn't take it anymore. I then tried very expensive braces, but found them awkward and uncomfortable. I found that I was not going on the hikes I used to go on, someone had to help me out of my kayak and carry my boat, and I was always aware of my knee and the pain I was experiencing even when I wasn't doing anything active. Finally, I scheduled my first total knee surgery and was so delighted to find out about Makoplasty just by sheer accident. Now I can do anything.Dr. Borus is one of the best surgeons and human beings I have encountered. He is encouraging, patient, and willing to answer all your questions. I am immensely grateful.

This testimonial is taken from an email sent to Dr. Todd Borus eight months after the patient's MAKOplasty partial knee resurfacing procedure.

Hi Dr. Borus, These pictures show the raison d'etre for my wonderful new knees. I just got back on Sunday from backpacking for 6 days and 62 miles on the w. side of the Wonderland Trail on Mt. Rainier, with over 16,000′ of climbing (and more importantly, descending!). My knees worked GREAT! It was exactly where I wanted to be, high in the alpine meadows with massive, majestic Mt. Rainier alongside all the way.The morning after I returned I got up at 5 am and swam 1.1 miles across the Columbia River in the Labor Day Cross the Columbia swim in Hood River. Oh yes, and I just bought a stand up paddleboard after having started that this summer. I got a racing board just in case I decide to compete…

Thank you for EVERYTHING!

A Matching Pair of Knees!

In June 2010, it was decision time. I had been waiting for 10 years for a new knee. My visit was for my final cortizone shot. Surgery could have been scheduled before the month was out, but I told my Dr. that I needed to go home and "chew on the idea for awhile." The thought of six to nine months of recoup time, and all that plastic in me for a new knee - just didn't seem like the best thing I had been waiting so long for.

Much to my surprise, the very next night after receiving that last shot, there was a segment on King 5 News, about Dr.Borus and knee replacement surgery. The surgery showed great promise of getting me back on my feet quickly, with about six weeks of physical therapy.

I researched the Makoplasty procedure and Dr.Borus. I called my insurance at least four times to be sure it was covered - and it was. The trip to Vancouver, WA takes about 3 1/2 hours from the little town I live in just north of Bremerton, WA. At my consultation, Dr. Borus assured me that I was going to go from "as bad as it gets- to as good as it gets." That is exactly what happened.

Ten days after my surgery, at my follow-up visit, I was off my pain meds and NO walker and NO cane. After the first year visit, I had done so well that I didn't need to come back for two years. By then it was September 2013, and I had just lost my husband in July 2013. That meant, I needed to wait until summer of 2014, after school let out, to have my daughter accompany me for the surgery and visits.

In August 2014, I had my left knee replaced with Dr.Borus. This time, I was off the pain meds, NO walker or cane in 8 days. Everyone is different, but I can assure you that the healing time of this procedure is nothing short of a miracle.

Dr. Borus and his team, as well as, the exceptional care you receive at Legacy Salmon Creek Hospital, is the best you can hope for, anywhere. I now have a matching pair of new knees. The entire experience has been well worth going the extra miles, not once-but twice. Hands down, it has been among the best decisions I have ever made, and that truly is "as good as it gets."

I was referred to see Dr. Borus to discuss a partial knee replacement, after an initial visit, tests, x-rays, etc., he decided it was the IT band causing my yearlong painful knee. A treatment plan was put into play, no surgery suggested , after a ultrasound cortisone injection , P/T and water therapy, I am pain free. Thank you Dr. Borus. MY HERO. The facility and staff all top notch.

Dr. Borus performed MAKOplasty on both knees. Recovering my mobility pursuant to those procedures was like a gift from the gods. I can now walk, run, climb, bicycle, etc. with no pain or difficulty. I am 78 years old and enjoying life to the max because of Dr. Borus and Rebound. I am profoundly grateful to both.

Thank you Dr. Borus and team! I practiced physical therapy for 16 years and live in southern Oregon and had been postponing much needed total knee surgeries for the last five years. I am only 58 and the research I did indicated that the custom Conformis implant would give me the best chance of long term success. Dr. Borus came highly recommended so I had the surgery in June 2014. He exceeded every expectation from the the lengthy initial appointment to the surgery, to the many follow up appointments. I am 11 months post op and have no pain on standing whatsoever. I have several friends who had this surgery at other places around the country and I feel so fortunate to not have any of the issues that they are having. It has not been easy, but I plan to have my other knee done soon by Dr. Borus and have sent everyone I know looking for an orthopedist his way. The Salmon Creek Hospital is stellar with one of the lowest infection rates I have seen, not to mention top knotch care. This is very high praise coming from a former physical therapist. Thank you Dr. Borus!