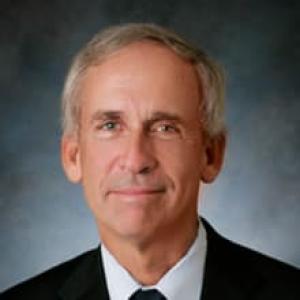 Donald W. Roberts, M.D.
Fellowship:
Sports Medicine
Dr. Don Roberts is an orthopedic surgeon subspecializing in disorders of the knee and sports medicine, including total knee replacement. Dr. Roberts has extensive experience in knee arthroscopy, including arthroscopic reconstruction of the anterior cruciate ligament, arthroscopic meniscal repair, meniscectomy, and management of disorders of articular cartilage. Dr. Roberts is interested in minimally invasive procedures and was one of the first doctors in the Northwest to perform MAKOplasty, a robotic-assisted partial knee resurfacing procedure.
In addition to his expertise in arthroscopic surgery, Dr. Roberts treats arthritic conditions of the knee, including total knee replacements and tibial osteotomies. Dr. Roberts has been the team physician and orthopedic surgeon for the Portland Trail Blazers since 1994. He was the team physician for gold-medal-winning men's and women's basketball teams at the 2012 London Olympics and has cared for Olympic athletes at the US Olympic Training Center.
The son of a Caltech professor of chemistry, Dr. Roberts grew up in Altadena, California. He graduated Phi Beta Kappa from Stanford University in 1975 with a degree in human biology. After receiving his Doctor of Medicine degree from the Stanford University School of Medicine in 1980, Dr. Roberts served his internship in orthopedic surgery at the University of Washington in Seattle. The following year, he taught human anatomy at the Stanford University School of Medicine and pursued further surgical training at Stanford University.
Dr. Roberts' residency training in orthopedic surgery was completed at the Harvard Combined Orthopedic Program in Boston, Massachusetts. After the completion of his residency, he served as chief resident in orthopedic surgery at Massachusetts General Hospital in Boston. He subsequently concluded a fellowship in sports medicine with Dr. Arthur Boland, the team physician for Harvard University. While in Boston, Dr. Roberts and his wife, Barbara, served as Resident Tutors in Cabot House at Harvard University.
Upon leaving Harvard in 1986, Dr. Roberts came to the Portland area to join Rebound. Since coming to the Northwest, Dr. Roberts has pursued the advancement of orthopedic surgery and surgery of the knee. He has taught knee anatomy at Stanford University, has served as a consultant reviewer and an associate editor of the Journal of Bone and Joint Surgery, and has initiated research projects on the technique and outcome of total knee replacements, particularly with regard to patellar resurfacing and implant wear.
Being certified by the American Board of Orthopaedic Surgery, he is a fellow of the American College of Surgeons and is a member of the American Academy of Orthopaedic Surgeons.
Currently, Dr. Roberts lives in Vancouver, Washington, with his wife, Barbara, and has four children, Emily, Molly, Heather, and Allen. As a family, they enjoy river rafting, fishing, tennis, hiking, traveling, and reading.
Dr. Roberts offers sports-related care and knee surgery, including joint replacement and revision. He sees patients at Rebound Orthopedics & Neurosurgery in Vancouver at Salmon Creek, in Portland at Rose Quarter, and in Lake Oswego.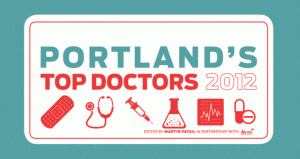 Credentials

Education & Training

Bachelor of Arts in Human Biology: Stanford University, Stanford, CA
Doctor of Medicine: Stanford University School of Medicine, Stanford, CA
Orthopedic Surgery Internship: University of Washington School of Medicine, Seattle, WA
Orthopedic Surgery Residency: Harvard Medical School, Boston, MA
Sports Medicine Fellowship: Brigham and Women's Hospital, Massachusetts General Hospital, Boston, MA

Certifications

American Board of Orthopaedic Surgery
Subspecialty Certificate in Orthopaedic Sports Medicine

Professional Associations

American Academy of Orthopaedic Surgeons
American College of Surgeons, Fellow
Clark County Medical Society
Washington State Medical Association

Team Affiliations

Portland Trail Blazers
USA Basketball

Hospital Affiliations

PeaceHeath Southwest Medical Center
Legacy Salmon Creek Medical Center

Awards

Best Doctors in America: 2015 – 2016, 2017 – 2018
Portland Monthly Top Doctors: 2012, 2015, 2018, 2020
Locations

Rebound Rose Quarter

Clinic Address:
One North Center Court Street, Suite 110
Portland, OR 97227

Parking Address:
100 North Drexler Drive
Portland, OR 97227

Rebound Salmon Creek

Medical Office Building A
2121 Northeast 139th Street, Suite 300
Vancouver, WA 98686

Orthopedics, Neurosurgery, and Physiatry: Suite 300
Physical Therapy and Hand Therapy: Suite 325

Rebound Lake Oswego

4811 Meadows Road, Suite 101
Lake Oswego, OR 97035
News
Testimonials

Carol and Dennis with Dr. Roberts after surgery.

Carol and Dennis, patients of Donald Roberts, M.D., split their time between Portland, OR and Sun Valley, ID. After watching Dennis recover from bilateral knee replacements, Carol decided to undergo the same procedure the following year. These enthusiastic patients share their stories as encouragement to others considering knee replacement surgery.

Carol's Testimonial

Carol standing victoriously on her two new knees over Hell Roaring Lake near Sun Valley, ID

I have suffered from osteoarthritis in my knees for several years. I stopped running in my twenties, and in recent years cut back on hiking and biking. I stopped skiing in 2009. My knees just couldn't take the pain any more.Four years ago I met Rebound's Dr. Don Roberts, who replaced both of my husband Dennis's knees in 2008. We knew the minute we met Dr. Roberts that we had found the best surgeon for the job. Once Dennis' recovery was complete, and I saw my husband able to pursue his passion, skiing, I knew there was hope for me.Following in Dennis' footsteps, I, too, had both knees replaced. I just celebrated my one-year anniversary since my bi-lateral total joint replacement surgery. I can't believe the strength I've gained with my new knees- I'm even dancing again -in Zumba class! Of course I modify the bouncing a little, but I truly feel like I've gotten a second shot at living my life fully, actively and happily.Thanks to Dr. Roberts and his amazing Rebound team, I look forward to standing on top of the mountain and skiing down with my husband. Our new knees are four reasons to believe there's hope for anyone whose knees have aged sooner than their spirits.

Dennis' Testimonial

I wouldn't recommend this any more than Dr. Roberts would. But, I had bi-lateral total knee replacement surgery in 2008. Last year I skied more than one hundred days! I also mountain biked for another thirty or forty days.

My wife, Carol, participated throughout the planning and preparation as well as the recovery from surgery, which was crucial. We both developed enormous respect for Dr. Roberts as a person and as a surgeon. His integrity and wisdom were evidenced throughout the process and was reflected by the attitudes and standards of his staff.

Miracles happened twice with Dr. Roberts in our lives. One year ago my wife had bilateral total knee replacement surgery. And with her drive and the inspiration of Dr. Roberts and his staff, she is raring to go too. She will be back skiing with me this year.

I would absolutely recommend Dr. Roberts for total knee replacement. I encourage anyone wanting to reclaim their life to make a commitment to themselves to come back strong to do the things they love.

Dennis during Ride Around WA (RAW)

Dennis during RAW up Hwy 20

My primary goal for both joint replacements was to get back on my bike. I reached my goals. I ride one week long and a few weekend rides during the dry season.I want to value the fine folks who assisted Dr. Roberts, like Lori, whom I always looked forward to see, and Kyle, who also provided care and directly assisted Dr. Roberts. Then there were the pre-op folks that got me ready and nursing and OT staff who took care of me while I was on the ward. And, lastly, there is that most important person who provided care before, during and after the cutting and replacements, that would be Sharon. She helped me get back to my bike. Thanks Sharon!It does take a village, doesn't it?

I was living with bone on bone in both knees due to a 30 year history of RA and acouple of skiing accidents. Dr. Roberts performed bilateral total knee replacement on January 25,2016. My recovery has been really remarkable. I've completed PT and am back in the gym and back to work. Still some stiffness but all in all I'm feeling really well. I'd also like to thank the Dr. Roberts team: Kyle Pirtle, PAC, Lori Ma and Dani Ma. Also "Thanks" to the great Surgery and recovery staff at Legacy Salmon Creek.

It all started out by me tearing my meniscus in my left knee-while doing NOTHING mind you, except taking about five steps, and SNAP! Down I went, in very bad pain. I went to a local orthopedic and was told I tore my meniscus and recommended surgery to repair it. Four months later, they did the surgery. Unfortunately, it never got better, only WORSE. I put up with it for over TWO years until the pain got so bad, I couldn't stand it any longer. I got three different orthopedic surgeons opinions, all different, and because of his great record, went with Dr. Roberts at the Rebound Clinic. He is my absolute HERO, and I told him so, more than once! It's been less than 5 months, and I am almost totally pain free-and NO MORE LIMPING!!! He's a miracle worker and I can't say enough good things about his professionalism, expertise and genuine caring about his patients. The same goes for his entire staff, especially his assistant, Kyle. The hospital at Legacy Salmon Creek is also top notch! Thank you Dr. Roberts and your Team for giving me my life back! I would and HAVE recommended Dr. Roberts to anyone who needs an orthopedic surgeon-especially knee surgery!

I have had two bad knees for at least 30 years and only recently discovered a very arthritic left hip. After the hip discovery it was decided to replace hip first. This entire process from initial appointment with Dr. Sparling, hip school, hip replacement surgery, physical therapy and follow-on visits were all flawless. One of the best parts was everyone always letting me know what to expect. Very reassuring to have this knowledge to successfully move forward. This process continued very seamlessly with Dr. Roberts on my knee replacements. The education process was equally important during this knee replacement. I had one knee replacement on my left knee and a hardware removal on my right knee. Several months later I followed up with a right knee replacement.

Rebound is the finest group of orthopedic professionals around. Truly a professional, caring and very skilled team of medical specialists. Thank you to all for offering excellent care and advice during all of the procedures. I would recommend Rebound and especially Drs. Roberts and Sparling to anyone looking for excellent orthopedic care.

I just wanna report how absolutely comfortable I am...and how wonderful my entire experience has been from the first pre op appointment. I have such peace... I feel so confident in my recovery...I am way more pain free than I expected to be at this point in time. Thank you Rebound and Thank you Dr Roberts!!!I just wanna report how absolutely comfortable I am...and how wonderful my entire experience has been from the first pre op appointment. I have such peace... I feel so confident in my recovery...I am way more pain free than I expected to be at this point in time. Thank you Rebound and Thank you Dr Roberts!!!

I did the operation on February 10 by the end of May I started playing tennis again I am very pleased with outcome and I am glad that I having no pain in my knees even after playing tennis for couple of hours. Dr. Roberts was amazing and I am glad he is the one I chose to do this operation.

I had two bad knees and Dr. Roberts replaced first the right knee, then years later the left knee. He is the best!!! Surgeries went well, the physical therapy was fantastic. Then a few years later Dr. Sparling replaced my hips six months apart and I had no trouble at all. Didn't need any physical therapy. Both of the doctors are excellent! I would recommend them to anyone!

I can't say enough about Dr. Roberts and his team. I had 2 bad knees for many years but couldn't be "the patient" as I was taking care of my ailing mother and husband. I'm a tennis player and the pain was keeping me off the court. I couldn't travel, or even shop with girlfriends . I found being on my feet for any amount of time to be problematic. As soon as I was able, I scheduled an appointment with Dr. Roberts who immediately inspired confidence. "Let's get you back on the tennis courts and out of pain" was basically his approach. I wasn't going to argue with that!! I had double knee replacement December of 2014 and was back on the courts in a few months. I live alone and all of my fears about doing this surgery were addressed by Dr. Roberts and everything he told me was spot on. My tennis team brought me dinners, I got rides to physical therapy for 3 weeks, but I managed quite well. What capable and confident hands I was in!! I had everything I needed. Great bedside manner, a caring and responsive staff, surgeon extraordinaire, what more could you ask for? I would do it again in a heartbeat. One surgery, one recovery, 2 new knees, ready for tennis and travel!! If you are thinking about doing both at the same time, don't hesitate with this capable, experienced ream. They are fabulous!

Dr. Roberts did 4 of my 5 knee surgeries after I had a faulty 1st ACL reconstruction with a different Doctor (not at Rebound). With his excellent care, skills and knowledge he brought my left knee back to the best possible place it could be after being traumatized! I had such a great experience at Rebound with Dr. Roberts, his PA Kyle Pirtle was awesome as well.