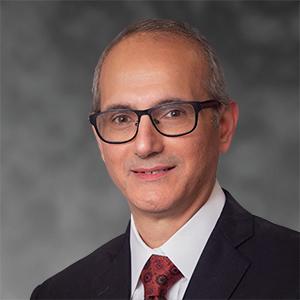 Wael Y. Musleh, M.D., Ph.D.
Specialties:
Fellowship:
Complex Spine Oncology
Wael Musleh, M.D., Ph.D., a board-certified neurosurgeon, completed his neurosurgical residency at The University of Chicago where he was trained under the guidance of Richard Fessler, M.D., Ph.D., in the latest minimally invasive spine surgical techniques for the treatment of various spinal disorders and tumors. In addition, he is well trained in cranial pathology (including vascular abnormalities and tumors) using microsurgical and endoscopic techniques. He completed a complex spine oncology fellowship at the James Cancer Center/The Ohio State University under the direction of Ehud Mendel, M.D.
Dr. Musleh's expertise encompasses all approaches to spinal reconstruction for degenerative spine disease and spine tumor management. He uses a multidisciplinary approach to manage spinal tumors. He treats patients as he wishes his family to be treated by providing a thorough evaluation and patient education, which he believes are necessary for good outcomes and patient satisfaction. Dr. Musleh enjoys guitar, soccer, racquetball, chess, and theater.
Click here to view Dr. Musleh's curriculum vitae.
Dr. Musleh sees back, neck, spine, and neurosurgical patients at Rebound Orthopedics & Neurosurgery in Vancouver at Vancouver, Salmon Creek, and Neurosurgey Vancouver.
Credentials

Education & Training

Bachelor of Science in Biomedical Engineering: University of Southern California, Los Angeles, CA
Master of Science in Biomedical Engineering, University of Southern California, Los Angeles, CA
Doctor of Philosophy in Neurobiology: University of Southern California, Los Angeles, CA
Doctor of Medicine: Saint Louis University School of Medicine, St. Louis, MO
Neurosurgery Residency: The University of Chicago Affiliated Hospitals, Chicago, IL
Complex Spine Oncology Fellowship: The Ohio State University Wexner Medical Center, Columbus, OH

Certification

The American Board of Neurological Surgery

Hospital Affiliations

PeaceHeath Southwest Medical Center
Legacy Salmon Creek Medical Center

Awards

Portland Monthly Top Doctors: 2018
Locations

Rebound Salmon Creek

Medical Office Building A
2121 Northeast 139th Street, Suite 300
Vancouver, WA 98686

Orthopedics, Neurosurgery, and Physiatry: Suite 300
Physical Therapy and Hand Therapy: Suite 325

Rebound Neurosurgery Vancouver

Physicians' Pavilion
200 Northeast Mother Joseph Place, Suite 300
Vancouver, WA 98664
News
Testimonials

Dr. Musleh has been treating me for several years. He has been a great doctor explaining all of my options and he has been there with his assistants helping me through all parts of my treatment and aftercare.

I would like to thank Dr. Musleh for my very successful back surgery in 2014. After going through severe pain in my lower back and the need to carry a cane to keep from falling caused from sudden loss of control of my left leg.

Today I am able to walk and stand with no limits, I am back to doing things that I have been unable to accomplish in several years.

I recently returned from a trip to Sofia Bulgaria, where I was able to walk around that city on rough skinny stone side walks with no pain or worry.

Many thanks again to Dr. Musleh and his staff for all they have done for me.
I will turn 76 in May and feel like I'm 46 again.

On Feb 6th 2015 I put my quality of life in the hands of Dr. Musleh & team. I put off back surgery for 14 years because at the time I was told there was nothing could be done. At the end of 2014 I ended up in Dr Musleh's office. I thank God I did. After some tests we found out that the nerve in my right leg was about to be cut off by bone growth. On Feb 6th 2015 I had a 9 hour surgery to fix the problem. Fuse L4 to S1 and cut the bone that was cutting off my nerve. The minute I opened my eyes there was NO pain in my right leg and my back feels so much better. Thank you Dr. Musleh and Team for your service.