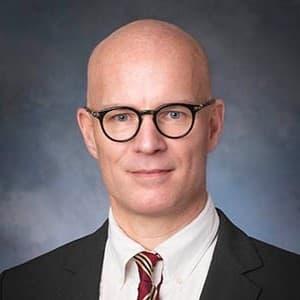 Andrew Nemecek, M.D.
Specialties:
Fellowship:
Spine Surgery
Andrew Nemecek, M.D., is a board-certified neurosurgeon who specializes in treating disorders of the spine. He has extensive experience in the surgical treatment of complex spinal disorders such as scoliosis, tumors, and trauma as well as common problems such as herniated discs, sciatica, and lumbar stenosis. Dr. Nemecek believes in a collaborative approach to the care of patients with neck or back pain and tailors specific treatment plans utilizing exercise, therapy, injections, and surgery when appropriate to ensure the best possible outcome for each patient.
Dr. Nemecek received training in spinal surgery at the University of Washington from both the orthopedic surgery department as well as the neurological surgery department. He spent seven years in a university hospital setting after residency, performed research funded by the National Institutes of Health, published numerous scientific articles and chapters, and has given many lectures and talks at national meetings.
Dr. Nemecek is an avid cyclist and enjoys spending time with his family.
Dr. Nemecek offers care for back, neck, spine, and neurosurgical patients at Rebound Orthopedics & Neurosurgery in Vancouver at Salmon Creek , Neurosurgery Vancouver and as well as in Portland at Rebound Neurosurgery Rose Quarter.
Credentials

Education & Training

Bachelor of Arts in Political Science: University of Cincinnati, Cincinnati, OH
Doctor of Medicine: Case Western Reserve University School of Medicine, Cleveland, OH
Master of Science in Epidemiology: University of Washington School of Public Health, Seattle, WA
Neurological Surgery Residency: University of Washington, Seattle, WA
Spine Surgery Fellowship: University of Washington, Seattle, WA

Certification

The American Board of Neurological Surgery

Professional Associations

American Association of Neurological Surgeons, Fellow
American Medical Association
Congress of Neurological Surgeons
Oregon Medical Association

Awards

Portland Monthly Top Doctors: 2014, 2015, 2016, 2017, 2020
Locations

Rebound Salmon Creek

Medical Office Building A
2121 Northeast 139th Street, Suite 300
Vancouver, WA 98686

Orthopedics, Neurosurgery, and Physiatry: Suite 300
Physical Therapy and Hand Therapy: Suite 325

Rebound Neurosurgery Vancouver

Physicians' Pavilion
200 Northeast Mother Joseph Place, Suite 300
Vancouver, WA 98664

Rebound Neurosurgery Rose Quarter

Clinic Address:
One North Center Court Street, Suite 110
Portland, OR 97227

Parking Address:
100 North Drexler Drive
Portland, OR 97227
News
Testimonials

Neck surgery with Dr. Nemecek, thank you so much! Dr. Nemecek is truly at the top of his game! The care and professionalism he gave me and my wife is unparalleled, today the pain I have lived with for many months is completely gone, Rebound and their staff is truly top notch, and I would never consider going anywhere else should I need anything in the future,

Thank you so much to Dr. Andrew Nemeck and the Rebound crew

Thank you very much for the referral. I have had the temporary spinal stimulis and am now going for the final phase of it. You and my other doctors have totally turned my life around.

Thank you again.

I had a ruptured disc at C6-C7 due to a bone spur from advanced Osteoarthritis that was compressing my spinal cord causing severe nerve pain going down my neck, both arms, shoulder blades, & jaw. If I could rate Dr. Nemececk & Jason Graeme, PA with above and beyond excellent, I would. I was in excruciating pain for 7 months being put through physical therapy, acupuncture, & epidural injections because the entire time I had to fight my insurance company. I'm fortunate to not have been paralyzed & that's because once I was seen by Dr. Nemececk, he immediately scheduled surgery. I had no pain for the first 10 days then it came back because the spinal cord had been compressed for so long it would take time to heal. Dr. Nemececk & Jason were right. It has now been 4 months since surgery & I have no nerve pain! I can't thank Dr. Nemececk, Jason, Christy, Diana & the entire Rebound staff enough for giving me my life back. I've never experienced such horrific pain in my life, but they fixed it and I feel so much better. Currently, I'm recovering from a total knee replacement, which was a cake walk compared to the nerve pain. I'm 43 years old & determined to beat this Osteoarthritis one body part at a time. If you're considering surgery, listen to the doctors at Rebound and have patience and determination to get through it. You'll be glad you did. You're in good hands with the best Neuro surgeon if you are fortunate enough to have Dr. Nemececk. Thank you!

Thanks.

After many years and several Doctors, Dr Nemacek diagnosed my back pain and performed the spinal fusion surgery that gave me my life back. Rebound Orthopedic and Dr Nemecek you both rock, thank you for giving me my life back.