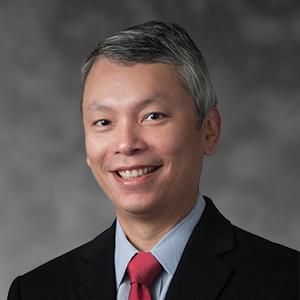 Hoang N. Le, M.D.
Specialties:
Fellowship:
Neurosurgery & Orthopedic Spine Surgery
Hoang N. Le, M.D., completed his training in general neurosurgery at The University of Chicago with proficiencies in both spinal and cranial surgeries. In addition, he finished fellowship training in minimally invasive and complex reconstructive spinal and peripheral nerve surgery at Stanford University. He is knowledgeable in all aspects of spinal instrumentation and is capable of treating all spinal disorders. Dr. Le uses cutting-edge minimally invasive techniques to treat both spinal and cranial disorders and believes in a cosmetic closure for all of his patients. He is a perfectionist with high standards for patient outcome and satisfaction. Above all, Dr. Le enjoys the interaction that he gains from each patient and provides the time necessary for effective communication.
In his free time, Dr. Le has an active life with his wife and four children. He is also a fan of all outdoor activities.
Dr. Le offers back, neck, spine, and neurosurgical consultation at Rebound Orthopedics & Neurosurgery in Vancouver at Vancouver, Salmon Creek, and Neurosurgery Vancouver.
Credentials

Education & Training

Bachelor of Science: Brown University, Providence, RI
Doctor of Medicine: University of Rochester School of Medicine and Dentistry, Rochester, NY
General Surgery Internship: The University of Chicago Medical Center, Chicago, IL
Neurosurgery Residency: The University of Chicago Medical Center, Chicago, IL
Neurosurgery and Orthopedic Spine Surgery Fellowship: Stanford University Medical Center, Palo Alto, CA

Certification

The American Board of Neurological Surgery

Hospital Affiliations

PeaceHeath Southwest Medical Center
Legacy Salmon Creek Medical Center

Awards

Portland Monthly Top Doctors: 2018
Locations

Rebound Salmon Creek

Medical Office Building A
2121 Northeast 139th Street, Suite 300
Vancouver, WA 98686

Orthopedics, Neurosurgery, and Physiatry: Suite 300
Physical Therapy and Hand Therapy: Suite 325

Rebound Neurosurgery Vancouver

Physicians' Pavilion
200 Northeast Mother Joseph Place, Suite 300
Vancouver, WA 98664
News
Testimonials

After several years of trying to manage my severe pain and numbness caused by spinal stenosis I saw Dr. Le who recommended surgery; he explained the procedure in lay person's terms and now, after 3 months post surgery I feel so grateful to be pain free! Thanks to the entire Neurosurgery team and 8th floor staff at SW Medical Center, You are the best!

Ruptured L5. Surgery 10/2015. Followed Dr.'s post surgery orders of walking & yoga. 12 months later I am back to my old self. Thank you Rebound. Thank you Dr. Le.

In 2001 I had a spinal fusion for a congenital pars defect which caused decades of chronic pain and excruciating leg pain. Dr. Hoang Le did the surgury, and as a result I have essentially no pain, and am back, after years of disability, to doing whatever I want. Dr. Le, you appreciate the days weeks of pain I have not had in almost 4 years. I am DEEPLY grateful, as is my wife, Patty. Thank you Rebound Team and SW Washington Hospital.

On 10/10/2014 I awoke with bad left arm pain, it continued to get worse over the next week. I started visiting my GP and each time came away with a different or no diagnosis. I was issued weak pain killers each time. It got to the point where I felt the doctors thought I was just seeking drugs for recreation and making up the pain which made it even more depressing. My director at work, seeing the state I was in, told me her husband had great success at Rebound and I should just walk in and ask to be treated which I did. My very first Doctor was Dr. Jacobs, who was wonderful. He had a good idea what I had but didn't have the imaging yet, he administered a cortisol shot deep into the arm and for the first time in weeks I finally had some relief. My next appointment was Dr. Gambee who diagnosed me initially from just seeing my arm on top of my head! This evidently is a strong indication of a herniated disk pressing on the arm nerve leaving the neck, which was later confirmed by MRI. Then I was handed off to Dr. Le for surgery, he as the preceding two was excellent. He described the two methods he can do to fix it listing the pros and cons of each. I picked one and had the surgery about a week later. From the moment I awoke I knew it was fixed I had zero pain in my arm FINALLY after two months! These Doctors of Rebound literally gave me my life back, thank you so much god bless. Every single staff member was professional and courteous from the front desk to the Xray technician ALL of them were exceedingly polite and kind, I would not hesitate to recommend or use them again myself.

Five years ago, I was frightened at the thought of back surgery but reached a point where there was no other option. Dr. Le gave me my life back.... I was terrified to have all 3 affected levels of my spine treated. So, four years later... (Last May) I had no choice but to have the next 2 levels treated. Again Dr. Le was fantastic ... I have never felt better and in 40 years my back has never been as pain free as it is now. Thank you to Dr. Le, his staff and crew for taking such great care. I have recommended him to many..