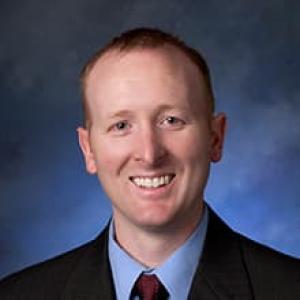 Benjamin Jacobs, M.D.
Specialties:
Fellowship:
Hand & Upper Extremity Surgery
Dr. Benjamin Jacobs is an orthopedic surgeon who subspecializes in the hand and upper extremity surgery. He treats disorders involving bones, tendons, nerves, and blood vessels of the upper extremity in addition to general orthopedics. He is trained in fracture management, reconstruction, and microvascular and nerve surgery of the hand, arm, and elbow as well as carpal tunnel syndrome. Dr. Jacobs also uses the most current treatment option of an injection of an enzyme called collagenase for Dupuytren's contracture. He is a member of the American Academy of Orthopaedic Surgeons (AAOS) and a member of the American Society for Surgery of the Hand (ASSH), where he is the Chairman for the Public Education Committee. Dr. Jacobs feels that the best approach to orthopedic care involves excellent communication with his patients and a multidisciplinary approach. His goal is to offer the most effective and up-to-date approach to each patient's unique case.
Dr. Jacobs enjoys time with his family, cooking, photography, and fitness.
Dr. Jacobs sees hand, wrist, and elbow patients at Rebound Orthopedics & Neurosurgery in Vancouver at Vancouver and East Vancouver.
Credentials

Education & Training

Bachelor of Arts in Biological Science: Northwestern University, Evanston, IL
Doctor of Medicine: The University of Chicago Pritzker School of Medicine, Chicago, IL
Orthopedic Surgery Internship: McGaw Medical Center of Northwestern University, Chicago, IL
Orthopedic Surgery Residency: McGaw Medical Center of Northwestern University, Chicago, IL
Hand and Upper Extremity Fellowship: University of Pittsburgh Medical Center, Pittsburgh, PA

Certifications

American Board of Orthopaedic Surgery
Subspecialty Certificate in Surgery of the Hand

Professional Associations

American Academy of Orthopaedic Surgeons
American Society for Surgery of the Hand

Team Affiliations

Awards

Portland Monthly Top Doctors: 2014, 2016, 2017, 2019
Locations

Rebound Orthopedics Vancouver

Physicians' Pavilion
200 Northeast Mother Joseph Place, Suite 110
Vancouver, WA 98664

Orthopedics, Physiatry, and Hand Therapy: Suite 110
Neurosurgery: Suite 300
Total Joint Center: Suite 305

Rebound Camas

3205 Southeast 192nd Avenue, Suite 105
Vancouver, WA 98683
News
Testimonials

On Christmas Day 2013, I was doing dishes. Put the LAST dish away and it shattered in my hand! Long story short, I cut my thumb deeply. Ended up severing the nerve! We don't realize who much we USE that thumb until we CAN'T! Pressure, feeling...gone.

Thanks to Dr. Jacobs and his fine skills, sewed my nerves back together! (didn't know you could do that!?) It took several months for growth and feeling to begin coming back, but I now have feeling back in my thumb, I have pressure sensitivity and the most important...I can FUNCTION! It's not perfect, but at least I can button my pants, pick up a cup, tell if it is being burned by something HOT, etc. Not to mention, I'm a pianist, biker, teacher, dirt bike rider...all of which are pretty tough to do without the use of a thumb. (dumb) I think over time it will still continue to improve.

I'm so grateful to have the use of all FIVE of my digits back! THANKS!

On 10/10/2014 I awoke with bad left arm pain, it continued to get worse over the next week. I started visiting my GP and each time came away with a different or no diagnosis. I was issued weak pain killers each time. It got to the point where I felt the doctors thought I was just seeking drugs for recreation and making up the pain which made it even more depressing. My director at work, seeing the state I was in, told me her husband had great success at Rebound and I should just walk in and ask to be treated which I did. My very first Doctor was Dr. Jacobs, who was wonderful. He had a good idea what I had but didn't have the imaging yet, he administered a cortisol shot deep into the arm and for the first time in weeks I finally had some relief. My next appointment was Dr. Gambee who diagnosed me initially from just seeing my arm on top of my head! This evidently is a strong indication of a herniated disk pressing on the arm nerve leaving the neck, which was later confirmed by MRI. Then I was handed off to Dr. Le for surgery, he as the preceding two was excellent. He described the two methods he can do to fix it listing the pros and cons of each. I picked one and had the surgery about a week later. From the moment I awoke I knew it was fixed I had zero pain in my arm FINALLY after two months! These Doctors of Rebound literally gave me my life back, thank you so much god bless. Every single staff member was professional and courteous from the front desk to the Xray technician ALL of them were exceedingly polite and kind, I would not hesitate to recommend or use them again myself.

Thanks to Dr. Jacobs for repairing my rotator cuff from a fall. They have made a world of difference in my life.