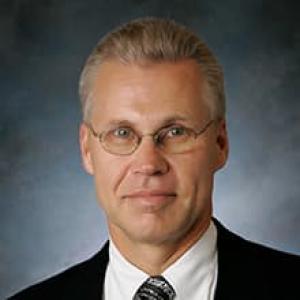 Edward A. Sparling, M.D.
Specialties:
Fellowship:
Joint Replacement
Edward A. Sparling, M.D., is an orthopedic surgeon with a subspecialty interest in arthritis, joint replacement surgery, and robotic-assisted surgery including Mako Robotic-Arm Assisted Technology. Dr. Sparling was the first surgeon in the region to offer total hip resurfacing, a bone sparing alternative to a total hip replacement. He is one of the most experienced hip resurfacing surgeons in the country, having successfully performed over 500 of these procedures since November 2000.
Dr. Sparling considers it an honor to be able to serve as a patient's personal physician and surgeon and is grateful for the opportunity to have a positive impact on his patients' quality of life. Integrating his extensive training and experience with his fundamental interest in the person behind the diagnosis allows him to render the best possible medical care. His outside interests include time with his family, gardening, tennis, bicycling, water skiing, and automobiles.
Dr. Sparling offers consultation for hip, knee, and joint replacement and revision patients at Rebound Orthopedics & Neurosurgery in Vancouver at Vancouver and Total Joint Center Vancouver.
Credentials

Education & Training

Doctor of Medicine: University of California Davis School of Medicine, Sacramento, CA
Internship: University of Arkansas for Medical Science, Little Rock, AR
Residency: University of Arkansas for Medical Science, Little Rock, AR
Joint Replacement Fellowship: Joint Replacement Institute, Los Angeles, CA

Certification

American Board of Orthopaedic Surgery

Hospital Affiliations

PeaceHeath Southwest Medical Center
Legacy Salmon Creek Medical Center

Awards

Portland Monthly Top Doctors: 2016
Locations

Rebound Orthopedics Vancouver

Physicians' Pavilion
200 Northeast Mother Joseph Place, Suite 110
Vancouver, WA 98664

Orthopedics, Physiatry, and Hand Therapy: Suite 110
Neurosurgery: Suite 300
Total Joint Center: Suite 305

Rebound Total Joint Center Vancouver

Physicians' Pavilion
200 Northeast Mother Joseph Place, Suite 305
Vancouver, WA 98664
News
Testimonials

Hip replacement done by Dr. Sparling. Did such a good job on my right hip going in to have the left done. The whole surgical experience was pleasant due to his great staff. Nurses, reception and hospital went beyond the customary service. Comforting to know you are in such professional and caring hands.

I had two bad knees and Dr. Roberts replaced first the right knee, then years later the left knee. He is the best!!! Surgeries went well, the physical therapy was fantastic. Then a few years later Dr. Sparling replaced my hips six months apart and I had no trouble at all. Didn't need any physical therapy. Both of the doctors are excellent! I would recommend them to anyone!

Dr. Sparling replaced my left hip in Feb. 2014 and gave me my life back. I had struggled from 2011-2014 with a hip that was so bad that I was immobilized. Within a month after surgery I was able to get around almost as well as before my problem began.

Feb. 2016 I was able to go to Disneyland with my family and walked all over both parks for 5 days. Made my life complete. Thank you Dr. Sparling.

I have had two bad knees for at least 30 years and only recently discovered a very arthritic left hip. After the hip discovery it was decided to replace hip first. This entire process from initial appointment with Dr. Sparling, hip school, hip replacement surgery, physical therapy and follow-on visits were all flawless. One of the best parts was everyone always letting me know what to expect. Very reassuring to have this knowledge to successfully move forward. This process continued very seamlessly with Dr. Roberts on my knee replacements. The education process was equally important during this knee replacement. I had one knee replacement on my left knee and a hardware removal on my right knee. Several months later I followed up with a right knee replacement.

Rebound is the finest group of orthopedic professionals around. Truly a professional, caring and very skilled team of medical specialists. Thank you to all for offering excellent care and advice during all of the procedures. I would recommend Rebound and especially Drs. Roberts and Sparling to anyone looking for excellent orthopedic care.

Since I was 17 years old I have lived with rheumatoid arthritis (RA), Osteoarthritis (OA) and Fibromyalgia (FMS). On New Years Eve 2008 Dr. Sparling did my left hip replacement and now on July 27, 2015 he did my right hip replacement. Arthritis may stink but my doctor rocks!

I have had a great doctors overseeing my care but Dr. Edward Sparling is one of my heroes! In addition to Dr. Sparling, it takes a team and I fully realize this; Over 200 doctors, nurses, physical therapists, office staff, schedulers, social workers, administrators, caregivers, billing, etc. it takes to make sure I benefit from a foreign hardware being placed in my body to help get me back on my feet, I thank them all from the bottom of my heart. I thank everyone on the 8th floor for the hospitality and care!

I have had so many well-known clinics, hospitals and doctors in my life and I founded an arthritis program at a California base healthcare system but Rebound and PeaceHealth are the utmost healthcare systems that have helped me get back on my feet and for this I will always appreciate the services, care and specialized attention to detail for safety and infection prevention.

Although I'm not looking forward to the next surgeries (my knees), knowing Rebound will be the leader of my healthcare team puts me at ease. Thank you everyone that cared for me in 2008 and 2015 from Rebound!

I am happy to say that I was able to walk the Portland Marathon exactly one year after my last hip replacement. I love being active and pain free!

Dr. Sparling and his staff at Rebound (Vancouver) provided exceptional care for total hip replacements (left and right) in 2013 and 2014. Within a month of the 2014 surgery I was able to begin an exercise program using an elliptical trainer and lost 15 lbs in 3 months and fit into jeans that had been too tight for several years. The surgery preformed by Dr. Sparling allowed me to return to a more active lifestyle that I thought was lost after retirement.

Thanks to Dr. Sparling, I have never felt better in 20 yrs. He performed knee replacements in both of my knees, and after 3 months I can walk as far as I did before but without the pain. Thank you Dr. Sparling for making my quality of life better than I can ever remember. I am so HAPPY!

Thank you Dr. Sparling for my new hip! You have given me my life back! You and your staff are both wonderful and amazing!

Thank you.

Hip replacement at 61. Three months after surgery hiking Dog Mountain (7 mi; 3,000 ft elevation). Two months later, backpacking in the Canadian Rockies (carried my 30 lbs. and passed the extra weight to family). Now, biking 40 miles with ease and looking forward to more wilderness backpacking.

Magical!

Can't thank Dr. Sparling and the Rebound team enough.
Videos