Patient Testimonial - 1520349647
First Name:
Carol and Dennis
Comments: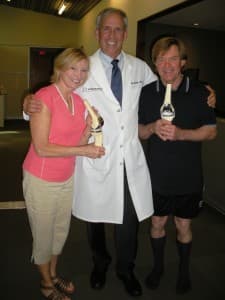 Carol and Dennis with Dr. Roberts after surgery.
Carol and Dennis, patients of Donald Roberts, M.D., split their time between Portland, OR and Sun Valley, ID. After watching Dennis recover from bilateral knee replacements, Carol decided to undergo the same procedure the following year. These enthusiastic patients share their stories as encouragement to others considering knee replacement surgery.
Carol's Testimonial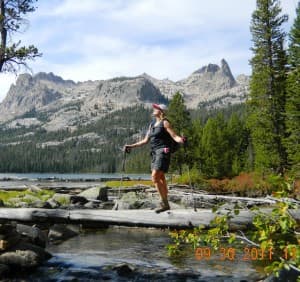 Carol standing victoriously on her two new knees over Hell Roaring Lake near Sun Valley, ID
I have suffered from osteoarthritis in my knees for several years. I stopped running in my twenties, and in recent years cut back on hiking and biking. I stopped skiing in 2009. My knees just couldn't take the pain any more.Four years ago I met Rebound's Dr. Don Roberts, who replaced both of my husband Dennis's knees in 2008. We knew the minute we met Dr. Roberts that we had found the best surgeon for the job. Once Dennis' recovery was complete, and I saw my husband able to pursue his passion, skiing, I knew there was hope for me.Following in Dennis' footsteps, I, too, had both knees replaced. I just celebrated my one-year anniversary since my bi-lateral total joint replacement surgery. I can't believe the strength I've gained with my new knees- I'm even dancing again -in Zumba class! Of course I modify the bouncing a little, but I truly feel like I've gotten a second shot at living my life fully, actively and happily.Thanks to Dr. Roberts and his amazing Rebound team, I look forward to standing on top of the mountain and skiing down with my husband. Our new knees are four reasons to believe there's hope for anyone whose knees have aged sooner than their spirits.
Dennis' Testimonial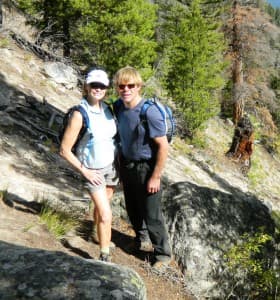 I wouldn't recommend this any more than Dr. Roberts would. But, I had bi-lateral total knee replacement surgery in 2008. Last year I skied more than one hundred days! I also mountain biked for another thirty or forty days.
My wife, Carol, participated throughout the planning and preparation as well as the recovery from surgery, which was crucial. We both developed enormous respect for Dr. Roberts as a person and as a surgeon. His integrity and wisdom were evidenced throughout the process and was reflected by the attitudes and standards of his staff.
Miracles happened twice with Dr. Roberts in our lives. One year ago my wife had bilateral total knee replacement surgery. And with her drive and the inspiration of Dr. Roberts and his staff, she is raring to go too. She will be back skiing with me this year.
I would absolutely recommend Dr. Roberts for total knee replacement. I encourage anyone wanting to reclaim their life to make a commitment to themselves to come back strong to do the things they love.
Which provider did you see?:
Donald W. Roberts, M.D.