Add These Bone-Healthy Foods to Your Diet for an Ortho-Happy New Year
Food can play an important role in your orthopedic health. When it comes to foods that help you build a healthy and strong musculoskeletal system, what is the first thing that usually comes to mind? You'd probably say "milk."
It isn't just about the dairy, though (breathe easy, lactose-intolerant, vegetarian and vegan friends). While milk is an excellent and efficient way to get your daily calcium intake, there are plenty of other foods and nutrients to incorporate into your diet for overall bone health.
Just like exercise, diet is another top contender on resolutions lists. Diet and nutrition play a key role in bone health and can help you avoid osteoporosis, fractures and much more.
Enter the undeniable dynamic duo: calcium and vitamin D. They stand as the two most important nutrients needed for healthy bones.
Because calcium is not made in our bodies, we have to eat calcium-rich foods to absorb the nutrient. Calcium serves as a crucial building block of bone tissue. Our bodies need a bit of help absorbing calcium, and that is where vitamin D comes in.
Vitamin D helps us effectively absorb calcium from the foods we eat. While there are plenty of foods around us containing calcium (some we overlook!), it is more challenging to find foods with significant amounts of vitamin D. For instance, fish is one of the primary foods with a substantial natural level of vitamin D. Many choose to take a supplement to get a little vitamin D into their life.
Be sure to consult with your doctor about getting the right amounts of vitamin D and C (whether through a supplement or not) to sustain healthy bones- this can be determined heavily by age, lifestyle and other factors.
In the meantime, consider adding these bone-healthy staples to your grocery list.
The Leafy Greens
Kale and Spinach
Mix up your typical salad up by tossing in some kale like this or spinach like this (you'll notice some other calcium key players). Adding either (or both!) to your morning smoothie is another great way to welcome some bone-health to your morning (both contain high levels of bone-friendly vitamin K, too).
Broccoli
Although kale beats broccoli in terms of calcium, variety is important when sticking to a diet rich in calcium. Try this broccoli dish featuring the dynamic duo.
Collard greens
Great steamed, great in soup, great all around for a healthy dose of bone-friendly nutrients.
Omega-3s, Please
Salmon and Sardines
No-brainers. These fish options are a superb way to get in a well-rounded meal containing calcium and vitamin D. Skip the turkey sandwich and try a sardine sandwich for your next bone-conscious lunch.
Dairy
Milk, Yogurt, Cheese
When in doubt: dairy. Get creative with your cheeses. Did you know Edam beats out mozzarella in terms of calcium content?
Fruit & Nuts
Figs
You won't believe it, but four figs contain more calcium than 2 glasses of skim milk! This recipemay change your outlook on adding figs to your diet.
Almonds
Reach for these calcium champs as a healthy daily snack, or get creative and add them to vegetable sides, smoothies or salads.
Walnuts
Like almonds, walnuts are pretty versatile, make great snacks or additions to main dishes and pack a calcium punch.
Meat-Free
Tofu
Did you know 100g of steamed soybean tofu contains 510 mg of calcium?
Red Kidney Beans
Kidney beans are another versatile calcium-rich food. Mix in some mushrooms (vitamin D) and your bones might thank you.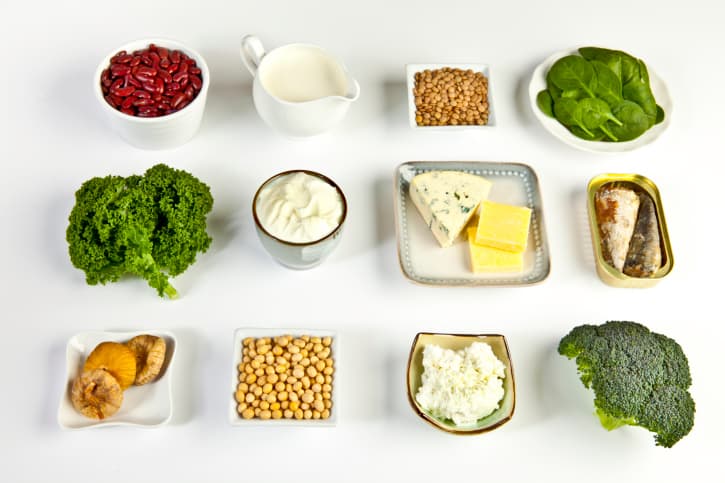 Other Key Players
Aside from calcium and vitamin D, there are some other key nutrients that contribute to overall bone health and growth.
Phosphorus
Magnesium
Vitamin K
Vitamin C
Vitamin A
Zinc
What bone-healthy foods will be making their way to your grocery cart? We'd love to hear from you. Connect with us on these social networks to receive and share other great orthopedic health tips:
Other Helpful Resources:
Calcium-rich Foods (International Osteoporosis Foundation)
Nutrition (International Osteoporosis Foundation)
Vitamin D for Good Bone Health (American Academy of Orthopaedic Surgeons)
Calcium and Vitamin D: What You Need to Know (National Osteoporosis Foundation)
Calcium and Vitamin D: Important at Every Age National Institutes of Health