Meet Randy and His New Knees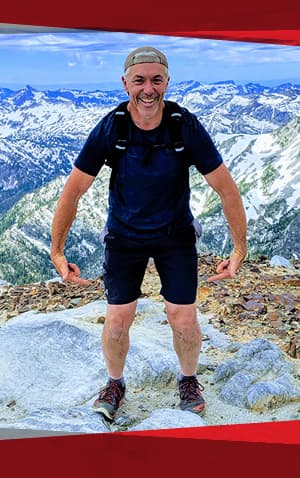 "Wanted to let you know how well my knees are doing! I've been hiking a lot and climbing mountains this summer. This picture is from on top of the Matterhorn (elevation 9826') in the Eagle Cap Wilderness only 6 months after partial knee replacement and 8 months after ACL reconstruction. A big thank you for helping me get back to doing what I love!" – Randy Greenshields
Randy, an avid hiker, hunter, horseback rider, and mountain biker, had lost his ability to run or do the activities that he enjoyed due to chronic knee pain and swelling. After trying over-the-counter home remedies and talking to his friends and family, Randy made the decision to schedule an appointment at Rebound Orthopedics & Neurosurgery based on their great reputation and a high recommendation from a friend that's a retired orthopedic surgeon.
Randy underwent both an ACL reconstruction on one knee and a partial knee replacement on the other knee within seven weeks of each other. "Both of them went great! The surgeries were no piece of cake to recover from, but totally worth it to get relief from the chronic pain that was keeping me from my passions," says Randy.
Although Randy ideally wanted to be completely healed and back to hiking immediately following his surgeries, he understood that his recovery was going to take some time. He credits the Rebound team with helping him prepare for what was going to happen by keeping his leg muscles in good shape prior to surgery with prehab exercises on a stationary bike. Randy worked hard at his post-operative physical therapy regimen and was back to hiking to the top of the mountains in no time.
Randy sees his surgeries as great successes and happily reports that he was back to hiking to the tops of mountains, riding horses, and bike riding already, just six months since his partial knee replacement surgery!
"I really appreciate the entire team that helped prep me for my surgeries, helped complete the surgeries, and gave me the tools for a fast recovery back to doing what I love," says Randy. "A huge thank you to both Dr. Borus and Dr. Southerland and their teams for a great experience!"
Are you ready to get back to doing what you love like Randy? To schedule an appointment, please call (360) 254-6161 or request an appointment online here.