Tell us about your experience
We'd love to hear from you. Leave your feedback via the form below or view feedback from others. By clicking on submit, you consent to allow us to use your comments on our website, in social media, or in other marketing material. If you have further comments or questions about your care, please contact us at 360-254-6165.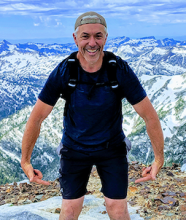 Wanted to let you know how well my knees are doing! I've been hiking a lot and climbing mountains this summer. This picture is from on top of the Matterhorn (elevation 9826') in the Eagle Cap Wilderness only 6 months after partial knee replacement and 8 months after ACL reconstruction.
A big thank you for helping me get back to doing what I love!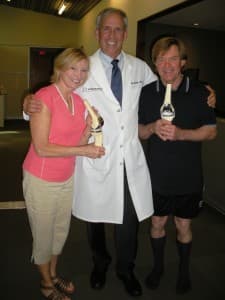 Carol and Dennis with Dr. Roberts after surgery.
Carol and Dennis, patients of Donald Roberts, M.D., split their time between Portland, OR and Sun Valley, ID. After watching Dennis recover from bilateral knee replacements, Carol decided to undergo the same procedure the following year. These enthusiastic patients share their stories as encouragement to others considering knee replacement surgery.
Carol's Testimonial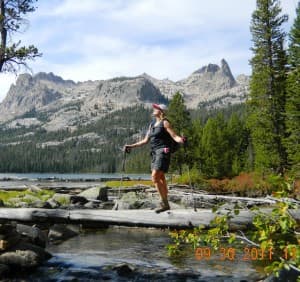 Carol standing victoriously on her two new knees over Hell Roaring Lake near Sun Valley, ID
I have suffered from osteoarthritis in my knees for several years. I stopped running in my twenties, and in recent years cut back on hiking and biking. I stopped skiing in 2009. My knees just couldn't take the pain any more.Four years ago I met Rebound's Dr. Don Roberts, who replaced both of my husband Dennis's knees in 2008. We knew the minute we met Dr. Roberts that we had found the best surgeon for the job. Once Dennis' recovery was complete, and I saw my husband able to pursue his passion, skiing, I knew there was hope for me.Following in Dennis' footsteps, I, too, had both knees replaced. I just celebrated my one-year anniversary since my bi-lateral total joint replacement surgery. I can't believe the strength I've gained with my new knees- I'm even dancing again -in Zumba class! Of course I modify the bouncing a little, but I truly feel like I've gotten a second shot at living my life fully, actively and happily.Thanks to Dr. Roberts and his amazing Rebound team, I look forward to standing on top of the mountain and skiing down with my husband. Our new knees are four reasons to believe there's hope for anyone whose knees have aged sooner than their spirits.
Dennis' Testimonial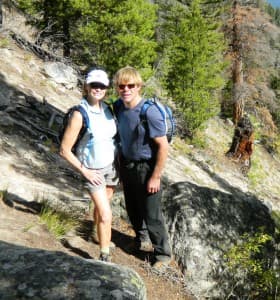 I wouldn't recommend this any more than Dr. Roberts would. But, I had bi-lateral total knee replacement surgery in 2008. Last year I skied more than one hundred days! I also mountain biked for another thirty or forty days.
My wife, Carol, participated throughout the planning and preparation as well as the recovery from surgery, which was crucial. We both developed enormous respect for Dr. Roberts as a person and as a surgeon. His integrity and wisdom were evidenced throughout the process and was reflected by the attitudes and standards of his staff.
Miracles happened twice with Dr. Roberts in our lives. One year ago my wife had bilateral total knee replacement surgery. And with her drive and the inspiration of Dr. Roberts and his staff, she is raring to go too. She will be back skiing with me this year.
I would absolutely recommend Dr. Roberts for total knee replacement. I encourage anyone wanting to reclaim their life to make a commitment to themselves to come back strong to do the things they love.
Beyond Excellent. I have had many orthopedic surgeries over the years (9). Had my shoulder repaired on Friday and was without pain on Sunday and back to work Monday. Dr. Gramstad and Jennifer Hermes are the best. A friend at work recently had a similar surgery with less damage through a well known all inclusive medical facility/hospital and was out for 6 weeks. If you want it done right you have to go through Rebound. Dr. Roberts replaced my knee in 2012 and it has been trouble free. I can't emphasize the quality and how much they care enough.
Dr. Todd Borus, MD and Bret Lautt, PT OCS are my heroes. They gave me my life back. I've had two total knee replacements, 9 months apart. It was supposed to be a year apart, but, well, my other knee didn't want to wait, I guess.
Thanks to these two gentlemen, I am able to walk again with no crutches and no cane. I am very happy. I walked with crutches for nearly 7 years. My right elbow can testify on the pain of that!
My Physical Therapist, Mike, was so patient and understanding with me. He put me on the correct exercises during physical therapy at the facility as well as the correct exercises to do on a daily basis at home. Though my physical therapy sessions at the facility are complete I still and will continue to do the home exercises and my pain level while walking is very minimal and tolerable! Thank you so much!
I'm 73 . In 2003 I saw Dr. Hayes about an extreme calcium deposit on my right knee and Dr. Hayes removed it with a day surgery . He told me that I would need a replacement in the near future .He also recommend Bariatric Surgery for my morbid obesity. I lost 140 pounds and the knee lasted until the fall of 2011. I received my second knee in Oct 2914. Dr. Hayes had retired and referred me to Dr. Roberts. I honestly don't think that you could receive better care anywhere in the nation. I did not know much about Dr. Roberts before I have my first operation. I then researched him and discovered his outstanding record. If you need a knee, I totally recommend Rebound.
I knew that physical therapy was EXTREMELY important for me to regain movement and flexibility in my knee. I requested Mike Baer who I had met back in 2003 with the removal of the calcium deposits. I told him to PUSH me so I would get the most from my new knees. He did.
My wife and I have joined a coached exercise program to help keep us in good health. We are both seeing good results. So I now tell people that I have a pair a 20 year old's knees in a 73 year old body.
My last thought is if you have real pain in your knees and have been told that you will need a joint replacement in your near fixture don't put it off. Do it you will be amazed at the results. I have absolutely no pain anymore- I can pretty much do whatever I want to. I like the outdoors and I fish, hunt, and go on hikes. The new knees have given me a new lease on life. The knees along with the extreme weight loss are the reason.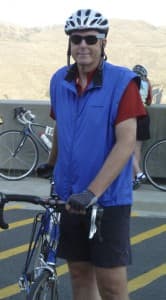 Dennis during Ride Around WA (RAW)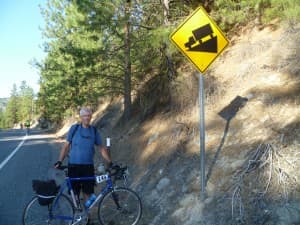 Dennis during RAW up Hwy 20
My primary goal for both joint replacements was to get back on my bike. I reached my goals. I ride one week long and a few weekend rides during the dry season.I want to value the fine folks who assisted Dr. Roberts, like Lori, whom I always looked forward to see, and Kyle, who also provided care and directly assisted Dr. Roberts. Then there were the pre-op folks that got me ready and nursing and OT staff who took care of me while I was on the ward. And, lastly, there is that most important person who provided care before, during and after the cutting and replacements, that would be Sharon. She helped me get back to my bike. Thanks Sharon!It does take a village, doesn't it?
He is so good! I've received the best treatment and I have the highest respect for him!
I did my due diligence looking for the best hand surgeon in the area and through the recommendations of various Dr's and hand therapists I ended up seeing Dr. Kirk Wong. He took the time to explain the X rays in detail and we discussed all the options, surgical and non surgical. By the time the conversation was done I had a a good handle on the best path forward. There were no unanswered questions and the appointment didn't feel rushed. All the people I dealt with at Rebound were polite, competent and happy. I would certainly recommend Rebound and Doctor Wong.
Dr. Wei has operated and fixed both of my rotator cuffs the which were injured several years apart. I was always impressed with the doctors ability and counsel regarding the surgery.
My own surgery though important was not the thing that was most impressive to me. A close friend who drove large semi trucks severely injured his rotator cuff while chaining up his truck. He was sent to a required doctor by the state industrial accident fund. After that surgery he was never ale to raise this arm any higher than chest level. I recommended that he see Dr. Wei. After the surgery by Dr. Wei my friend regained at least 80% movement in the arm and is currently able to live a reasonably normal life.