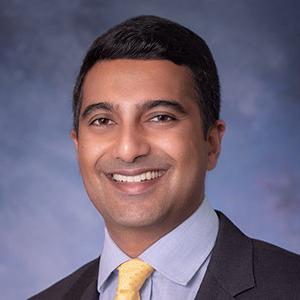 Dhanur Damodar, M.D.
Fellowship:
Sports Medicine, Hip & Shoulder Surgery
Dr. Dhanur Damodar is a fellowship-trained orthopedic surgeon with a subspecialty interest in complex knee and shoulder, hip preservation and arthroscopy, sports medicine, and cartilage repair. Upon completing his fellowship training, he gained advanced experience in performing the most leading-edge and minimally invasive surgical procedures.
Dr. Damodar has a specific interest in arthroscopic reconstruction of the hip, shoulder, and knee, including ligament repair and reconstruction, cartilage repair and restoration, rotator cuff repair and shoulder stabilization, arthroscopic hip labral preservation, and joint replacement of the shoulder. Born and raised abroad in both India and Hong Kong, he settled in Louisville, Kentucky, where he graduated from a math-science-technology magnet school. Dr. Damodar earned his undergraduate degree at the University of Southern California in Los Angeles and his medical degree at the Keck School of Medicine of USC.
In his years at the University of Southern California, Dr. Damodar was recognized as the top of his class and was involved with teaching and educating other students. He then completed his residency training at the University of Miami/Jackson Memorial Hospital, the fourth largest hospital in America and home to the world-renowned Ryder Trauma Center. Here, he received world-class training in orthopedic trauma and fracture care, sports medicine, and joint replacement. He was elected as chief resident and helped with recruitment and alumni relations.
Dr. Damodar finished an advanced year of training in a sports medicine fellowship for knee surgery, hip preservation, and open shoulder reconstruction at Midwest Orthopaedics at Rush in Chicago. Rush University is widely considered to be amongst the top three sports medicine fellowships in the world and is routinely recognized as an orthopedic center of excellence. During his time at Rush University, Dr. Damodar was trained by world leaders in sports medicine and was taught the most leading-edge surgical and nonsurgical techniques.
In his practice, Dr. Damodar ensures that his patients receive the best and most effective treatment, even if that means nonsurgical care. In fact, he is able to help the majority of his patients through their ailments with nonsurgical methods. Having served as a team physician at high school, collegiate, and professional levels, Dr. Damodar's goal is to treat each patient as thoughtfully as he would treat his own family member.
Dr. Damodar feels strongly that communication and patient education are critically important to excellent medical care. He has taken care of several of his own family members after orthopedic procedures and understands the challenges faced by caretakers and family.
In his free time, Dr. Damodar enjoys spending time with his wife and family. He is excited to explore the area with his wife, who is a Pacific Northwest native. He also enjoys basketball, golf, tennis, hiking, biking, and traveling.
Dr. Damodar sees patients suffering from hip, knee, and shoulder ailments and sports-related issues at Rebound Orthopedics & Neurosurgery in Vancouver at Vancouver and Salmon Creek and in Portland at Rose Quarter.
Credentials

Education & Training

Bachelor of Science in Biological Sciences: University of Southern California, Los Angeles, CA
Doctor of Medicine: Keck School of Medicine of USC, Los Angeles, CA
Orthopedic Surgery Internship: University of Miami/Jackson Memorial Hospital, Miami, FL
Orthopedic Surgery Residency: University of Miami/Jackson Memorial Hospital, Miami, FL
Sports Medicine, Hip, and Shoulder Surgery: Midwest Orthopaedics at Rush, Chicago, IL

Professional Associations

American Academy of Orthopaedic Surgeons
American Orthopaedic Society for Sports Medicine
American Shoulder and Elbow Surgeons
The Arthroscopy Association of North America

Hospital Affiliations

PeaceHealth Southwest Medical Center
Southwest Washington Regional Surgery Center
Legacy Salmon Creek Medical Center

Team Affiliations

Portland Trail Blazers National Basketball Association (NBA)
Chicago Bulls National Basketball Association (NBA)
Chicago White Sox Major League Baseball (MLB)
DePaul Blue Demons College Basketball
Chicago Steel Semi-Pro Hockey
University of Miami Hurricanes, Football
Miami Marlins Major League Baseball (MLB)

Surgical & Nonsurgical Procedures

Hip — Arthroscopic Labral Repair, Acetabuloplasty, Femoroplasty, and Capsular Repair
Hip — Open Gluteus Medius/Minimus Repair
Hip — Open Proximal Hamstring Repair
Shoulder — Arthroscopic and Open Rotator Cuff Repair (Primary and Revision)
Shoulder — Arthroscopic Distal Clavicle Excision (Primary and Revision)
Shoulder — Arthroscopic and Open Biceps Tenodesis (Primary and Revision)
Shoulder — Arthroscopic Labral Repair (Stabilization)
Shoulder — Arthroscopic Capsular Release
Shoulder — Total Shoulder Arthroplasty
Shoulder — Reverse Total Shoulder Arthroplasty
Shoulder — Open Latarjet Coracoid Transfer (Instability)
Shoulder — Open Pectoralis Repair
Shoulder — Clavicle Fracture Open Reduction Internal Fixation
Shoulder — Proximal Humerus Fracture Open Reduction Internal Fixation
Knee — Arthroscopic Meniscus Surgery/Repair (Primary and Revision)
Knee — Arthroscopic Anterior Cruciate Ligament (ACL) Reconstruction (Primary and Revision)
Knee — Arthroscopic Posterior Cruciate Ligament (PCL) Reconstruction
Knee — Arthroscopic and Open Multi-Ligament Knee Reconstruction
Knee — MCL, LCL, or Posterolateral Corner Reconstruction
Knee — Subchondroplasty®
Knee — Illiotibial Band Tenodesis (ITB Tenodesis)
Knee — Arthroscopic or Open Osteochondritis Dissecans (OCD) Fixation
Knee — Osteochondral Autograft (OATS) – Cartilage Restoration
Knee — Osteochondral Allograft (OCA or OAG) – Cartilage Restoration
Knee — Arthroscopic-Assisted Meniscus Transplant
Knee — Medial Patellofemoral Ligament (MPFL) Reconstruction
Knee — Tibial Tubercle Osteotomy (TTO)
Knee — Patellar Tendon Repair
Knee — Quadriceps Tendon Repair
Knee — Patella Fracture Open Reduction Internal Fixation
Fracture Open Reduction Internal Fixation
Orthobiologics
Corticosteroid Injections
Hyaluronic Acid (HA) Injections
Bone Marrow Aspirate Concentrate Injections
Ultrasound-Guided Hip and Shoulder Injections
Locations

Rebound Orthopedics Vancouver

Physicians' Pavilion
200 Northeast Mother Joseph Place, Suite 110
Vancouver, WA 98664

Orthopedics, Physiatry, and Hand Therapy: Suite 110
Neurosurgery: Suite 300
Total Joint Center: Suite 305

Rebound Rose Quarter

Clinic Address:
One North Center Court Street, Suite 110
Portland, OR 97227

Parking Address:
100 North Drexler Drive
Portland, OR 97227

Rebound Salmon Creek

Medical Office Building A
2121 Northeast 139th Street, Suite 300
Vancouver, WA 98686

Orthopedics, Neurosurgery, and Physiatry: Suite 300
Physical Therapy and Hand Therapy: Suite 325
Patient Education