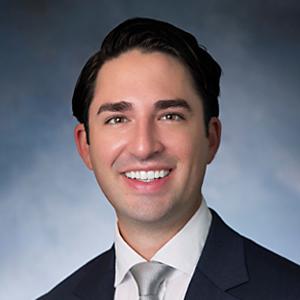 S. Kevin Nayar, M.D.
Fellowship:
Hand & Upper Extremity
Kevin Nayar, M.D., is a Harvard and Johns Hopkins–trained orthopedic surgeon with subspecialty training in hand/wrist, elbow and shoulder surgery. He offers specialized diagnostics, non-operative treatment, and surgery for a wide array of upper extremity conditions.
While originally from El Paso, Texas, Dr. Nayar received his undergraduate degree in biochemistry from Grinnell College in Iowa. He went on to earn his medical degree from The Johns Hopkins University School of Medicine in Baltimore, Maryland. He also completed his internship and residency in orthopedic surgery at The Johns Hopkins Hospital. Afterward, Dr. Nayar earned a spot in the Harvard Combined Hand and Upper Extremity Fellowship, rotating at Massachusetts General Hospital, Brigham and Women's, and Boston's Children's Hospital in Boston.
Dr. Nayar treats a wide variety of conditions, including, but not limited to: hand/wrist, elbow, and shoulder arthritis, trauma, joint replacement, and arthroscopy; peripheral nerve surgery; microsurgery; reconstruction; sports injuries; pediatrics; and general orthopedic trauma. He treats all of his patients as he would treat his own family and helps them arrive to highly personalized plans. As one who has taken care of several of his own family members following surgery, he understands how hard the process can be. Further, he always seeks the most contemporary care and practice for his patients by staying educated on current research trends and novel therapeutics. He has co-authored over 60 peer-reviewed journal articles and has presented over a hundred presentations, papers, and book chapters both at regional and national conferences, earning multiple awards of distinction in the process. Dr. Nayar also serves as a consultant reviewer for multiple orthopedic journals.
In his free time, Kevin loves traveling with his wife, a west-coast native, and exploring their new home in the Pacific Northwest. He enjoys cooking, hiking, tennis, golf, and basketball and has recently discovered a new found passion for amateur skiing and surfing.
Dr. Nayar is available to see hand, elbow, wrist, and shoulder adult and pediatric patients at Rebound Orthopedics Vancouver, Rebound Camas, and Rebound Salmon Creek.
Credentials

Education & Training

Bachelor of Arts in Biological Chemistry: Grinnell College, Grinnell, IA
Doctor of Medicine: The Johns Hopkins University School of Medicine, Baltimore, MD
Orthopedic Surgery Internship: The Johns Hopkins Hospital, Baltimore, MD
Orthopedic Surgery Residency: The Johns Hopkins Hospital, Baltimore, MD
Harvard Combined Hand & Upper Extremity Fellowship: Massachusetts General Hospital, Boston, MA

Certification

Board-Eligible: American Board of Orthopaedic Surgery

Professional Associations

American Academy of Orthopaedic Surgeons
American Society for Surgery of the Hand
Domestic Outreach Committee, American Society for Surgery of the Hand
J. Robert Gladden Orthopaedic Society
Johns Hopkins School of Medicine Physician Scientist Training Program
Physician Reimbursement and Coding Committee, American Society for Surgery of the Hand

Surgical & Nonsurgical Procedures

Anatomic Shoulder Replacement
Arthritis
Cartilage Injury
Contracture
De Quervain's Tendinitis
Dupuytren Contracture
Elbow Arthroscopy
Elbow Dislocation Stabilization
Elbow Fracture
Elbow Impingement
Elbow Instability
Elbow Ligament Reconstruction
Elbow Loose Body
Elbow Replacement
Elbow Replacement Revision
Elbow Surgery
Finger Fusion
Finger Joint Replacement
Finger Ligament Reconstruction
Forearm Fracture
Forearm Ligament Reconstruction
Hand Arthritis
Hand Fracture Treatment
Hand Injury
Hand Mass
Hand Pain and Numbness
Hand Reconstruction
Hand, Wrist, Forearm, and Elbow Reconstruction
Humerus Fracture Fixation
Joint Instability
Ligament Pain
Minimally Invasive Carpal Tunnel Release (Endoscopic)
Nerve Compression Syndrome
Nerve Entrapment
Nonunion or Malunion Correction
Pediatric Injury
Reconstructive Surgery
Reverse Shoulder Replacement
Rotator Cuff Repair
Regenerative Peripheral Nerve Interface
Scapholunate Repair
Scar Revision
Shoulder Arthroscopy
Shoulder Fracture
Shoulder Instability
Shoulder Joint Replacement
Shoulder Pain
Shoulder Replacement
Sports Injury
Sprain
Sprained Finger
Sprained Thumb
Strain Injury
Stress Fracture
Supracondylar Fracture
Targeted Muscle Reinnervation
Tendinitis
Tendinopathy
Tendinosis
Tendon Laceration
Tendon Rupture
Tenosynovitis
TFCC Repair
Thumb Arthritis
Thumb Ligament Injury
Trigger Finger
Ulnar Nerve/Cubital Tunnel Surgery
Wrist Arthroscopy
Wrist Fracture
Wrist Fusion
Wrist Instability
Wrist Ligament Injuries
Wrist Pain
Locations

Rebound Orthopedics Vancouver

Physicians' Pavilion
200 Northeast Mother Joseph Place, Suite 110
Vancouver, WA 98664

Orthopedics, Physiatry, and Hand Therapy: Suite 110
Neurosurgery: Suite 300
Total Joint Center: Suite 305

Rebound Rose Quarter

Clinic Address:
One North Center Court Street, Suite 110
Portland, OR 97227

Parking Address:
100 North Drexler Drive
Portland, OR 97227